The 19th Academy Awards were presented at the Shrine Auditorium, Los Angeles, Ca, on March 13, 1947. Jimmy Stewart was nominated in the "Best Actor" category for his performance in It's a Wonderful Life, losing to Fredric March.
We cannot say with 100% accuracy that Stewart appeared on the radio broadcast. Most newspapers carried this preview of the awards ceremony which was provided by the Associated Press:
In the article, Stewart is simply listed as a nominee. However, in the Wisconsin State Journal, Madison, WI, this preview was printed: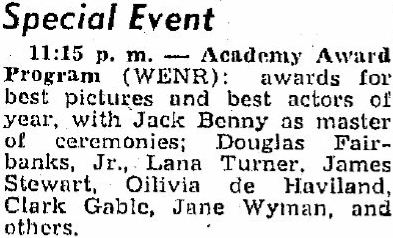 The wording here seems to suggest that Stewart and the others would be appearing. Of those mentioned in the preview, Douglas Fairbanks Jr., Lana Turner, and Clark Gable, were not nominated, but appeared on the program in other capacities. It's possible that the others did too. But, the show is not available and none of this can be confirmed.