Those in attendance at the 1951, Boy Scout Jamboree were in the Shrine Auditorium in Hollywood, CA, for a special radio broadcast on the afternoon of February 10th. Here are several newspaper clippings of the event. The first is from The Post-Standard, Syracuse, NY: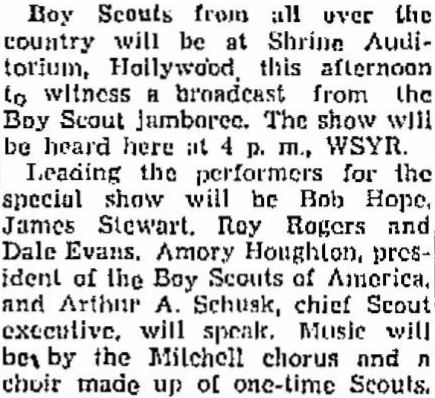 The second is from The Brooklyn Eagle, Brooklyn, NY:

The third appeared in the Wisconsin State Journal, Madison, WI:

The half hour show is not available, but we can piece together from these previews that Jimmy Stewart, Bob Hope, Roy Rogers and Dale Evans were on the program. Also there to make speeches were Arthur A. Schuck (misspelled in all previews on this page), Chief Scout Executive and Amory Houghton, President of the Boy Scouts of America. The Mitchell Chorus and a choir made-up of one-time Boy Scouts provided the music.
A publicity photo, apparently showing Stewart performing with Roy and Dale, is show below: