As outlined in our book, Stewart appeared on at least five different Boy Scout Jamboree programs, only two of which are available. Our aim here is to update the first of these broadcast by adding clippings, photos and audio. The program was broadcast by NBC as a public service on Saturday, February 12, 1949. This short listings for the show is from the Wisconsin State Journal, Madison, WI: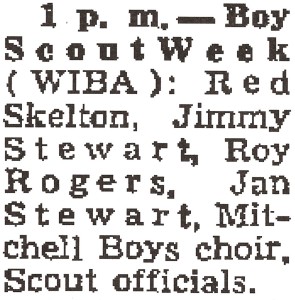 Lyle Bond, the show's announcer opens the show and then introduces Jimmy Stewart who, in turn, introduces Roy Rogers:
Following the song, Jimmy and Roy are Joined by Red Skelton:
Below the three stars do their best to get two scouts to smile: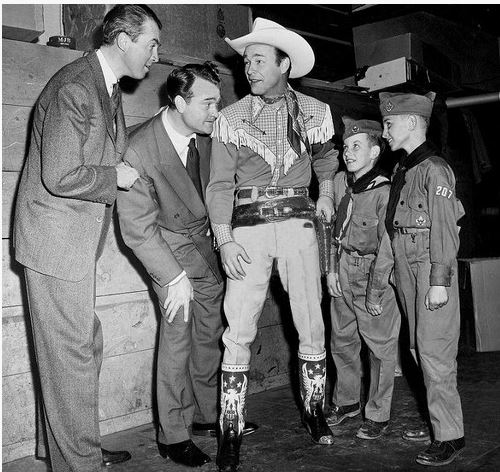 This next segment of the program is very short as Jimmy, Roy and Red ask for a volunteer to tell the audience about scouting. Skelton volunteers as one of his characters – Junior. He and his mother, played by Verna Felton, then do a long sketch.
Following this, Jimmy is back to introduce the Robert Mitchell Boy Choir:
In the final segment with the three stars, they speak about scouting and its effect on boys. Stewart even mentions his own troop, troop 3,  from his boyhood in Indiana, Pa. As this segment ends, Jimmy sends the show across the country to the Statue of Liberty on Bedloe's Island in New York Harbor. The remainder of the program takes place from that location.
Update: February 13, 2018
We're adding one display ad for this program. It appeared in The Honolulu Advertiser, Honolulu, HI, on the day of the broadcast.