This 90-minute NBC Radio special was broadcast on December 23, 1955. Unfortunately, it is not available. We mentioned it in Jimmy Stewart on the Air, but will be updating that entry with scans from several newspapers.
The article with the most useful information was published in the Pasadena Independent, Pasadena, CA, on the day of the broadcast (Bill Bird, whose photo appears in the article, was the writer of the preview):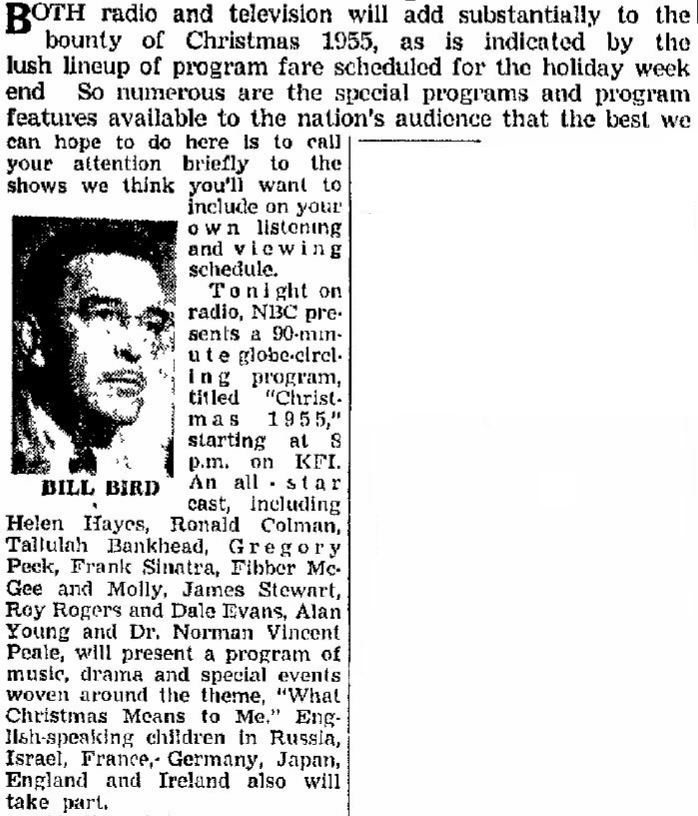 A smaller preview appeared in the New York Times on the same day:

From these two, we can piece together that the theme of the program was "What Christmas Means to Me," and that it featured musical numbers, drama and special events. Those appearing on the program included Stewart, Helen Hayes, Ronald Colman, Tallulah Bankhead, Gregory Peck, Frank Sinatra, Fibber McGee and Molly (Jim and Marian Jordan), Roy Rogers, Dale Evans, Steve Allen, Alan Young and Dr. Norman Vincent Peale. Children from Russia, Israel, France, Germany, Japan, England and Ireland were also scheduled to be part of the program.
Exactly what took place on this program may never be known.