Desert Island Discs has been airing on the BBC in England since January 29, 1942 (it was off the air from 1946 until 1951). Today it airs on BBC Radio 4. Jimmy Stewart made two appearances on the show, the first coming on May 25, 1974. He was interviewed by the show's host, Roy Plomley. Plomley, seen below at the BBC microphone, created the show and hosted it over a 43 year period and a total of 1,791 shows.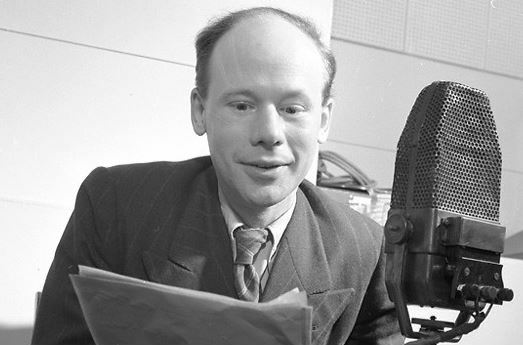 Stewart was asked to pick eight records, a book and a luxury item that he would like to have on the celebrated desert island. At the time Jimmy Stewart on the Air was published, all that we knew about this appearance was the answers to the questions posed above. These were listed on the BBC Desert Island website. Stewart chose these eight records:
On the Road to Mandalay – Kenneth McKellar
Bye Bye Blues – Guy Lombardo and his Royal Canadians
I've Got a Crush on You – Betty Grable and Jack Lemmon
I Hadn't Anyone Till You – Ray Noble and His Orchestra
There, I've Said It Again – Vaughan Monroe and His Orchestra
Don't Cry, Joe – Gordon Jenkins and His Orchestra
Moonlight Serenade – The Glenn Miller Orchestra
Dream – The Pied Pipers (Stewart named this as his favorite song)
Stewart chose Musical Arrangements by Dave Brubeck as his book and a piano as his luxury item.
Since our book was published, the BBC website has made this show, or at least a part of it, available in its website
BBC Desert Island Disc Website
Only about nine minutes of his interview has survived. It's a very interesting interview. He talks about his hometown, Princeton University and the Triangle Club, his accordion playing, acting and his hobby – photography. Here it is.