Hawkins was a short lived television series starring Jimmy Stewart as an investigative southern lawyer named Billy Jim Hawkins and co-starred Strother Martin as R.J. Hawkins, Billy Jim's cousin. The program was part of The New CBS Tuesday Night Movie series and was only seen every third week.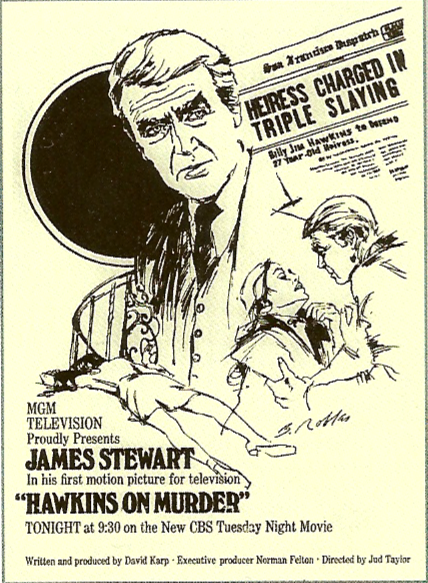 The show was cancelled after just one season and only seven, 90-minute, programs were produced. Despite its cancellation, Stewart did win a Golden Globe Award for "Best Actor in a Television Drama Series."
Although the series was on the air during the 1973-1974 TV season, the soundtrack CD was not issued until 2005 (Turner Classic Movies Music FSM Vol. 6 No. 13).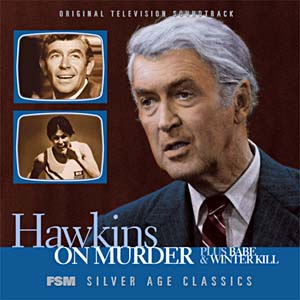 The CD actually features the Jerry Goldsmith soundtracks for three made-for-TV films – Hawkins on Murder, Winter Kill, starring Andy Griffith, and Babe, starring Susan Clark. According to the CD's liner notes, the Hawkins on Murder songs are presented as a four-track suite which includes:
The Bodies/Main Title/No Tourist Attraction/A Stranger in the House/The Beach/All That Can Be Done
No Worries/It Won't Happen/A Couple of Kicks/Sarabande
A Strange Freedom/A Second Time
Julia's Confession/End Title
One of the CD's bonus tracks, Main Title, features a reprise of the Hawkins theme as it was heard in other episodes of the Stewart series on CBS.
Here is that bonus track: