In late November of 1940, Hedda Hopper presented Jimmy Stewart's life story on her daily 15-minute radio show. Announcements of each of the programs appeared in the November 23, 1940, edition of Movie-Radio Guide. Part I was broadcast on November 25th:

Part II on the 27th:

Part III was aired on the 29th:

Stewart himself did not appear on any of the programs and no audio of any is available.
So, who played the role of Jimmy Stewart? That question was answered in the December 7, 1940, edition of Move-Radio Guide: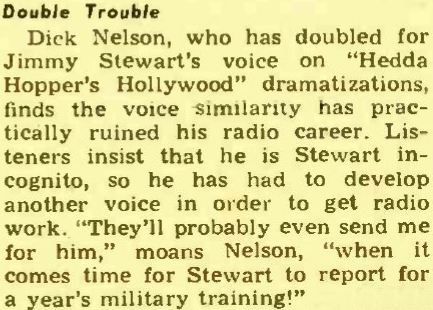 Miss Hopper would use Nelson several times during the war years to imitate Stewart on her program. According to the following article from the Pittsburgh Press (October 12, 1944) Miss Hopper received permission from Stewart himself to use a voice imitator on her program.
A story in the December 17, 1944, edition of Radio Life confirmed that Nelson had supplied the voice.
No radio listings have been found to confirm the exact date of this broadcast.