Jimmy Stewart's latest film, Bend of the River had just been released in February of 1952. On April 27th of that year, Jimmy was the guest on the Benny show and performed a sketch based on that film. Newspaper previewed the program this way:

The cast for the skit included Jimmy Stewart as himself, Jack Benny as Buck Benny, Mary Livingstone as Kate, Mel Blank as Dobbin the horse, Don Wilson as Chief Thunder Storm, Dennis Day as Little White Cloud That Died and Phil Harris as Curly Hair.
During the sketch, the Sportsmen Quartet, with help from Jimmy and other members of the cast, sing I'm an Indian, Too. Jimmy has two lines in the song – "Like the Seminole, Navajo, Kickapoo; like the Cherokee, I'm an Indian too" and "I'll wear moccasins, wampum belts, feather hats" – both of which he flubs.
The script for this show is available on the University of California's Truth Tobacco Industry Documents website. You can find the bound volume of scripts at:
Once there, you'll need to search for the April 27th script, but the effort will be worth your time. The script is marked with many handwritten changes, allowing you to see how the script progressed. There are also several instances of some of Jimmy's lines which were cut before the broadcast.
The first of these comes during the skit when he is talking with Curly and Kate: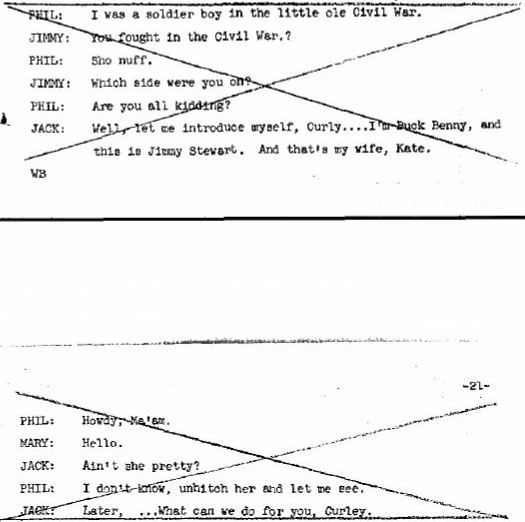 Then you'll see that the final few lines between Jack and Jimmy at the end of the show have also been cut.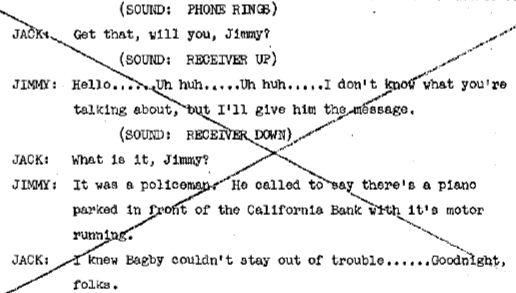 Part 1:
Part 2, featuring the Stewart sketch: