Stewart and Warning are both Pennsylvanians…in fact, they grew up less than 70 miles from each other…Waring in Tyrone and Stewart in Indiana.
Stewart made three appearances on the Fred Waring radio program, the first coming on January 24, 1947. This show was well documented in our book, but with the extra materials added here, we hope to make that listing more enjoyable for the reader.
Waring makes Jimmy's appearance on the program seem like an accident by "spotting" him in the audience and bringing him up on stage. In fact, not much on network radio was that spontaneous. This "chance meeting" wasn't that at all as evidenced by this page from that day's script: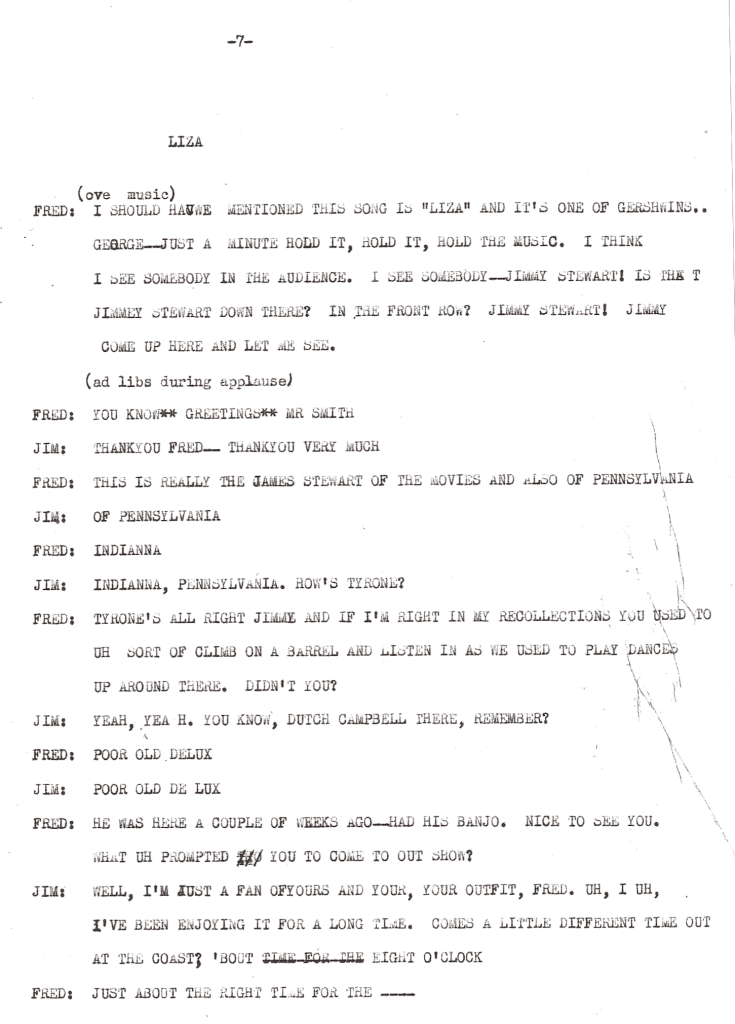 The Waring show was broadcast on NBC from 11-11:30 a.m. each Monday and the morning newspapers very seldom listed guests. This was true for Stewart's appearance. However, Jimmy's hometown paper, the Indiana Evening Gazette, picked up on the fact that Jimmy mentioned he was going home for a visit and ran this story in that afternoon's edition:

During their four and a half minute talk, they talk about It's a Wonderful Life, golf and going back home to Indiana. Fred also introduces him to all the girls on the show and has Jimmy pick the next song.
Although this program is not in general circulation, it is available, as are most of the Waring broadcasts, at the Pennsylvania State University, 313 Pattee Library, University Park, PA.