On November 5, 1939, Stewart appeared on the Gulf Screen Guild Theater in the play Going My Way, which had no relationship at all to the 1944 Bing Crosby film of the same title. Stewart played the role of Lewis Conway. His wife, Nancy, was portrayed by Loretta Young. Edward Arnold played J.P. Hampton, Fuzzy Knight was the elevator operator and Roger Pryor, the show's director and host, played Don Hampton.
Many newspapers carried a display ad for the program like the one below which appeared in The Brooklyn Daily Eagle on the day of the broadcast.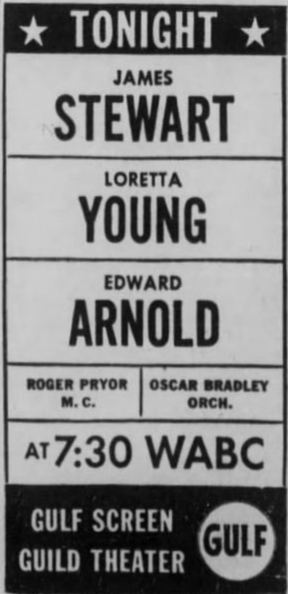 Others, like this one from the New York Times, just mentioned the broadcast in their normal listings.

The only available version of this program has some problems near the ending of the show. The play itself is intact, but there are several skips and repeats during the shows ending. More about that after you listen to the first act.
During this year's broadcasts, it was normal for Roger Pryor to return after the play and ask trivia questions of the stars. If they couldn't answer those questions correctly, they had to pay a forfeit. This forfeit was usually something just a little out of the actor's comfort zone and was played for a laugh. Mr. Stewart's section has been edited and reconstructed in the best way possible, but there are parts still missing. For instance, the question asked of him by Pryor is not present. From the answer given, it appears that the question was whether or not Charlie Ruggles had appeared in the 1935 film, Ruggles of Red Gap. In any event, Stewart gave the wrong answer and you will hear his forfeit.