The Glenn Miller Era was an NBC Special aired on October 17, 1954 – 61 years ago today. As described in Jimmy Stewart on the Air, this 90-minute show is not available. What we know about the show comes from information found in several newspaper previews. The first of these is from the Amarillo Sunday News-Globe, Amarillo, TX.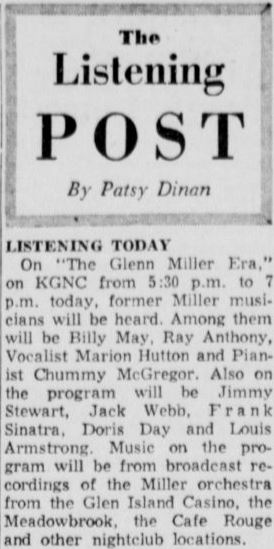 The second appeared in the Lubbock Avalanche-Journal, Lubbock, TX.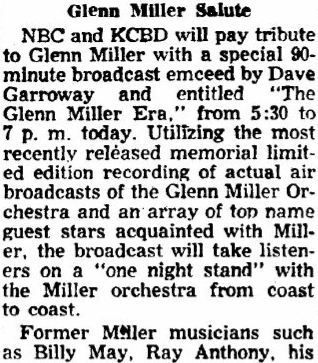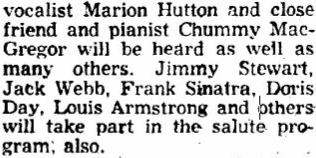 As seen in these articles, Dave Garroway emceed the program which featured actual air broadcasts of the Glenn Miller Orchestra from the Glen Island Casino, the Meadowbrook, the Café Rouge and other locations. Among the guests appearing on the show were Jimmy Stewart (who starred in The Glenn Miller Story which opened just 10 months prior to this broadcast), Billy May, Ray Anthony, Marion Hutton, Chummy MacGregor, Jack Webb, Frank Sinatra, Doris Day and Louis Armstrong.