Revenge at Harness Creek was broadcast on April 29, 1954. John Wald says this title as he is introducing the second act of the play. Despite this, the show is also sometimes called The Harcourt Brothers.
As they had been doing for some time, the Syracuse Herald-Journal, Syracuse, NY, ran a display ad for the show. However, this one featured a drawing of a cowboy figure and not a photo of Mr. Stewart.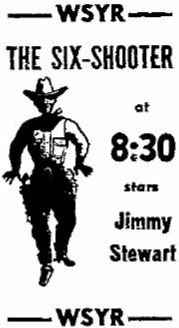 A short preview of the program was printed in the Tucson Daily Citizen, Tucson, AZ.

The cast members included Virginia Gregg as Mrs. Robie, Eleanor Audley as Bessie Petrie, Lamont Johnson as Cash Harcourt, Bert Holland as Lex Harcourt and Forrest Lewis as Adam Robie.
Cash and Lex Harcourt are brothers. When Lex is shot and killed by Adam Robie, Cash, who is the sheriff of Harness Creek, seeks revenge. Britt must find a way to stop him.
Act 1:
Act 2: