Uncle Jay Jay's Playtime was a local show broadcast over KCRG-AM in Cedar Rapids, Iowa, between 1950 and 1952. The program was aired Saturdays from 9 to 9:30 a.m. The following newspaper listing is from the Cedar Rapids Gazette of February 1, 1952: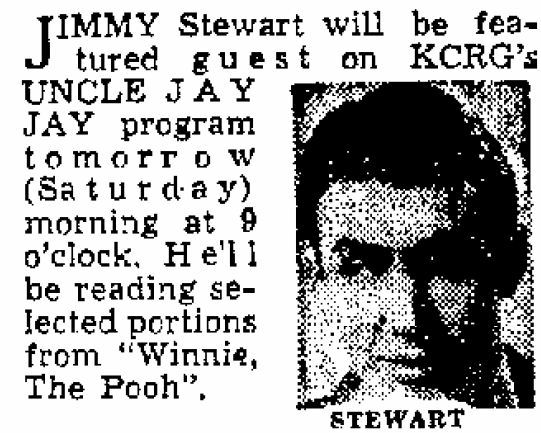 The date for this broadcast would have been the following day, February 2, 1952.
A quick check of the newspapers surrounding this date show Uncle Jay's other guests to include Hopalong Cassidy, Jimmy Durante, Roy Rogers and Uncle Wiggley. Obviously, all of these people were not making the trip to Cedar Rapids to appear on the program. In all likelihood, Uncle Jay was just playing records which his "guests" had recently released. In late 1951, RCA Victor had issued four different Winnie the Pooh stories read by Mr. Stewart (Kanga and Baby Roo, Winnie the Pooh and Eeyore, Winnie the Pooh and the Heffalump and Winnie the Pooh and Tigger). Uncle Jay probably played one or more of these stories in his show that day.
See previous blogs for these stories.