All of Stewart's appearances on the Screen Guild Theater are well documented in Jimmy Stewart on the Air. In this blog, we'll be updating his December 3, 1945, starring role in Vivacious Lady. In the 1938 film, Jimmy's leading lady was Ginger Rogers. According to many newspaper listings for the program, including the one below from the Wisconsin State Journal, Madison, WI, Carole Landis would be his co-star on the Screen Guild Theater presentation.

When the show was broadcast, Janet Blair had the female lead, but no mention was made on the program as to why Miss Landis replaced her. A photo of Stewart and Blair during a rehearsal for the program appeared in the March, 1946, issue of Screenland: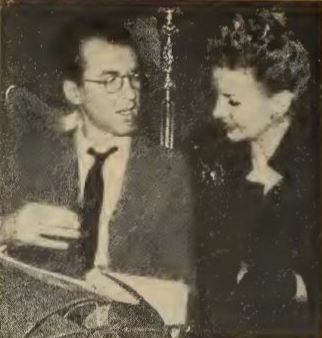 Here, in two acts, is the entire program. Enjoy!
Act 1:
Act 2: