As detailed in Jimmy Stewart on the Air, We Hold These Truths was commissioned by President Franklin D. Roosevelt to mark the 150th anniversary of the ratification of the Bill of Rights. Famed radio man Norman Corwin was the writer, producer and director of the program and Bernard Herrmann wrote the musical score. Corporal Jimmy Stewart, on special leave from the military to act as narrator, an ordinary American citizen. In the photo below we see the cast and crew: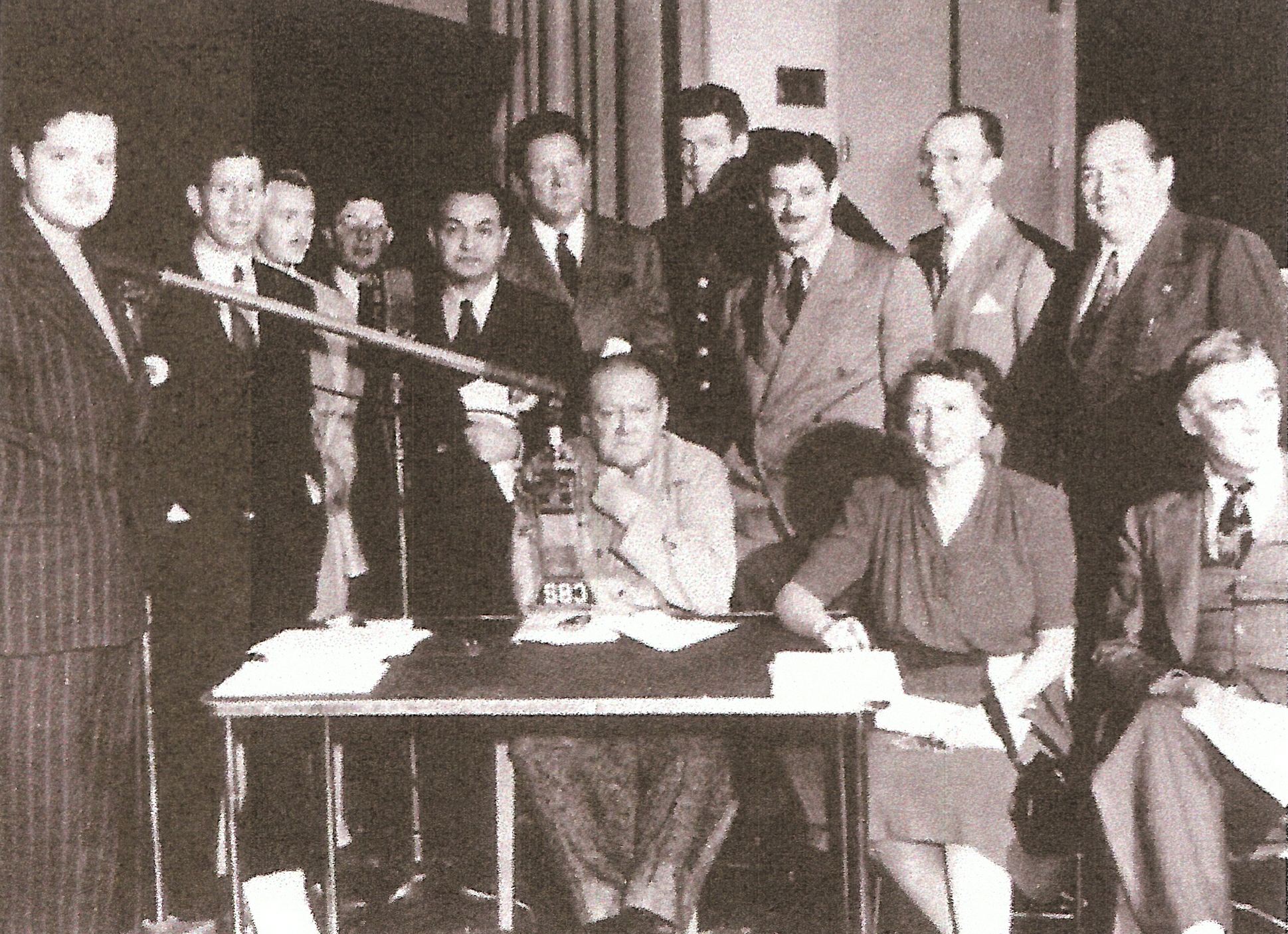 (Standing from left to right: Orson Welles, Rudy Vallee, Dane Clark, Bernard Herrmann, Edward G. Robinson, Bob Burns, Jimmy Stewart, Norman Corwin, Walter Brennan and Edward Arnold. Seated from left to right are: Lionel Barrymore, Marjorie Main and Walter Huston)
The show was broadcast on all four major networks – CBS, NBC Red, NBC Blue and Mutual. The Crosley Rating Service estimated the listening audience at 63 million, about half the population of the United States at that time. Although the program began as a tribute to a very important historical event in American history, the Japanese air attack at Pearl Harbor just eight days before the broadcast also made it an early rallying point for war.
Many special previews of the show, like the one below, were printed in newspapers all over the country.
Shown below are (L to R) Lionel Barrymore, Jimmy Stewart and Edward G. Robinson gathered around a CBS microphone.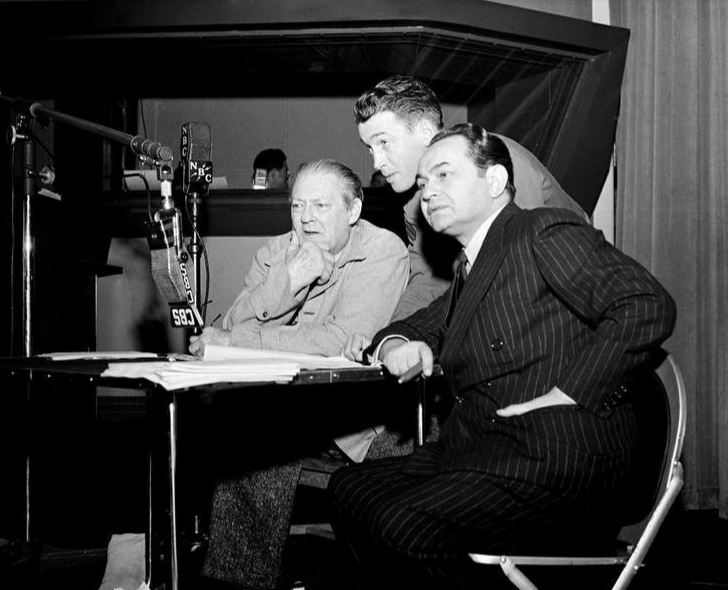 The show was considered so important that it was pressed on a 16-inch transcription disc and rented, or sold, to schools and other organizations. Below are scans from a catalog showing how the disc was listed and of the record label.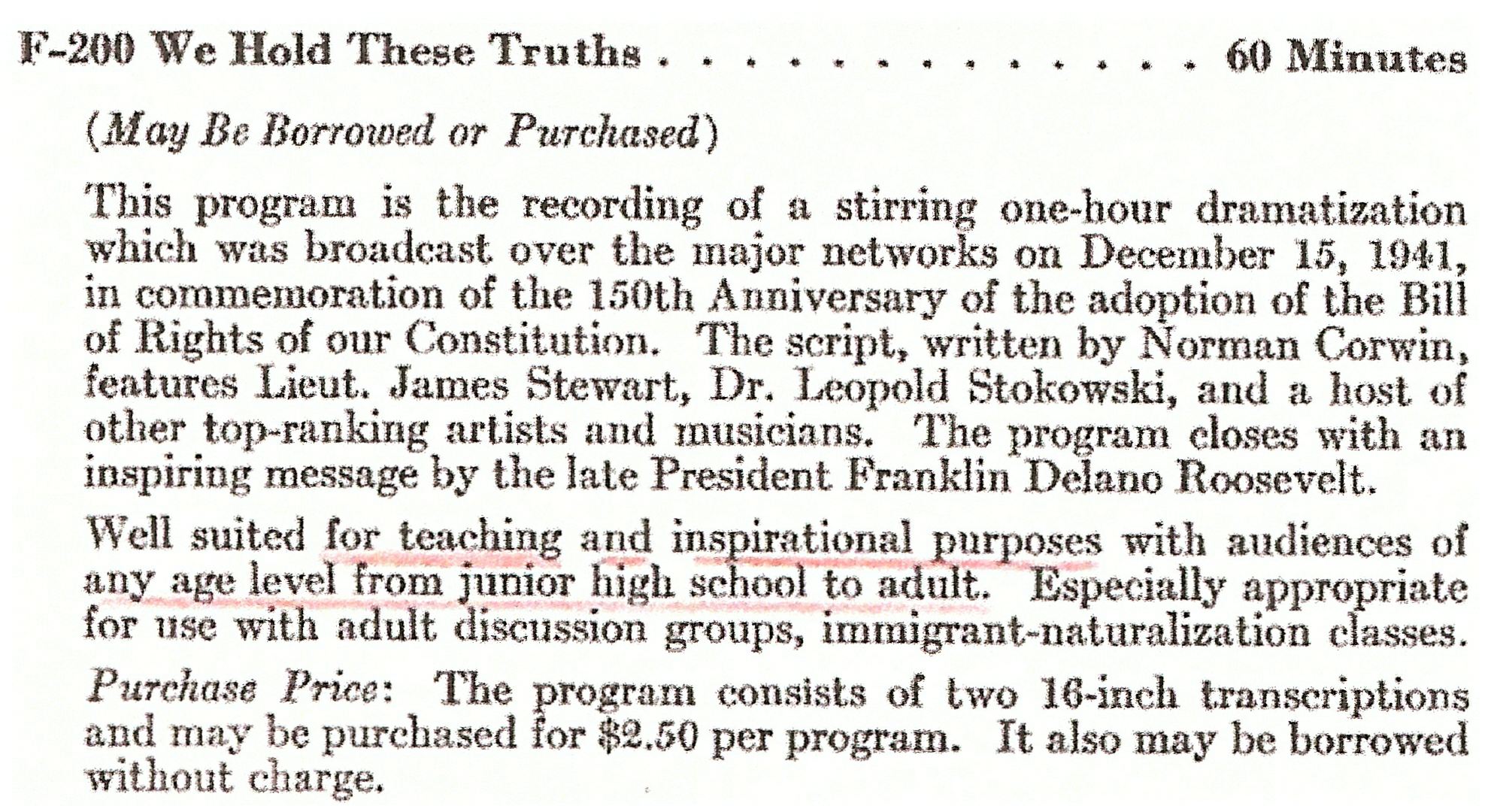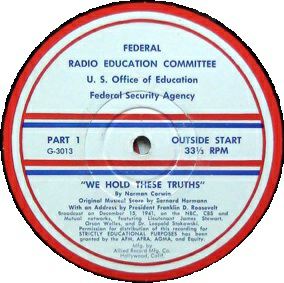 Many photos from the broadcast were run in the Movie-Radio Guide Vol.11, No 13, dated January 3-9, 1942. A few of these appear below.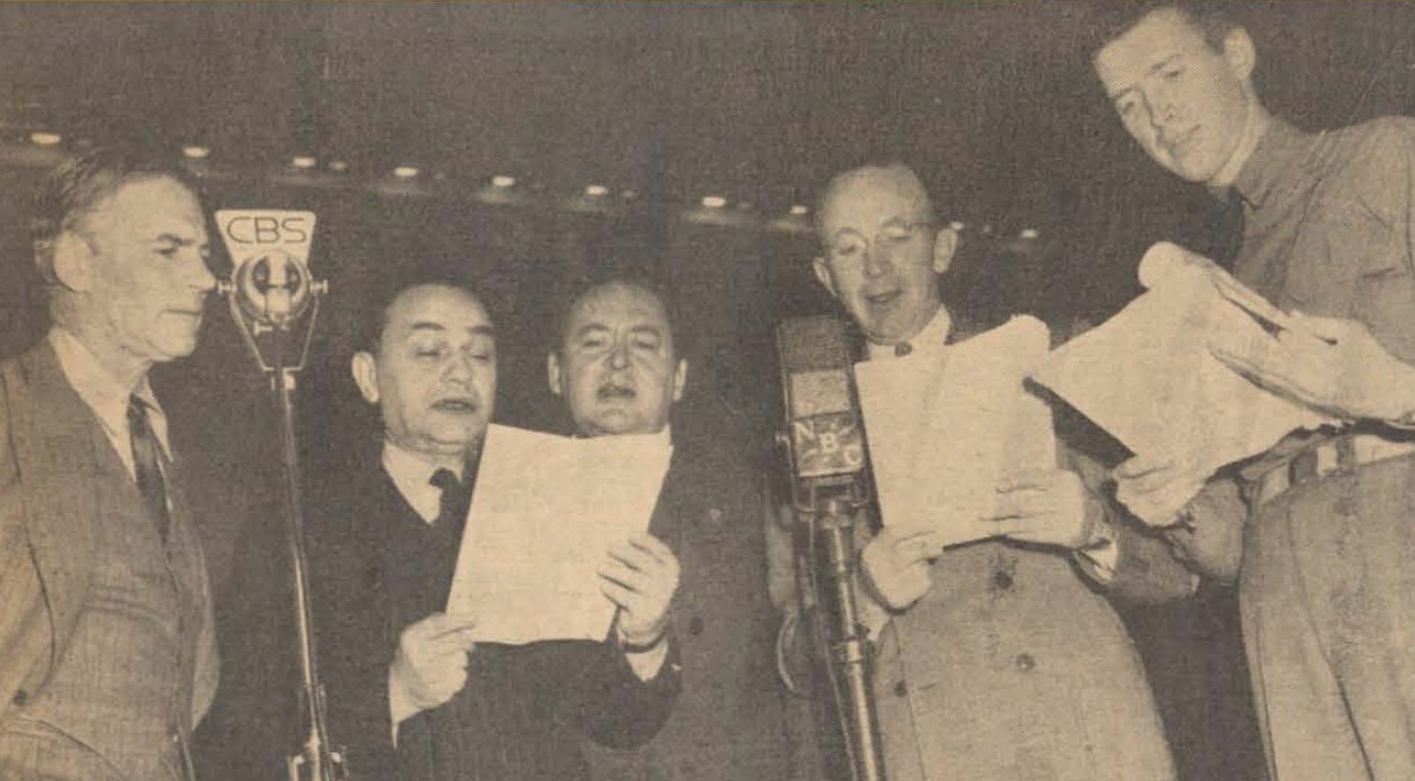 Scripts in hand and standing at both CBS and NBC microphones are (L to R): Walter Huston, Edward G. Robinson, Edward Arnold, Walter Brennan and Jimmy Stewart.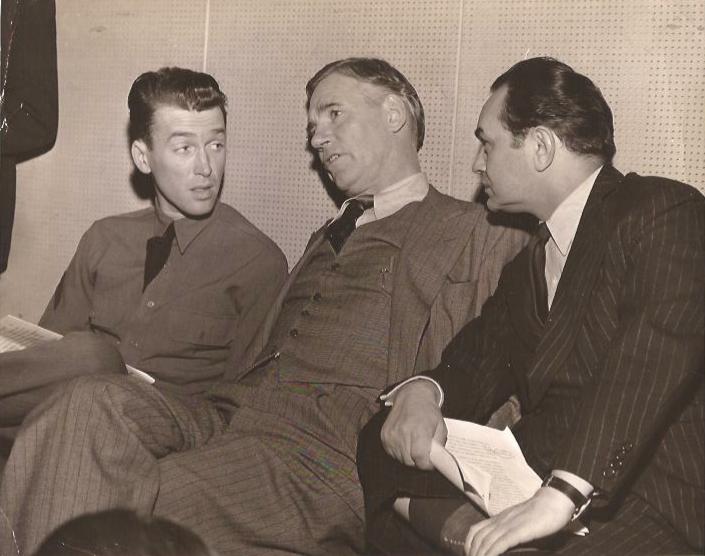 Stewart, Huston and Robinson shown sharing a break.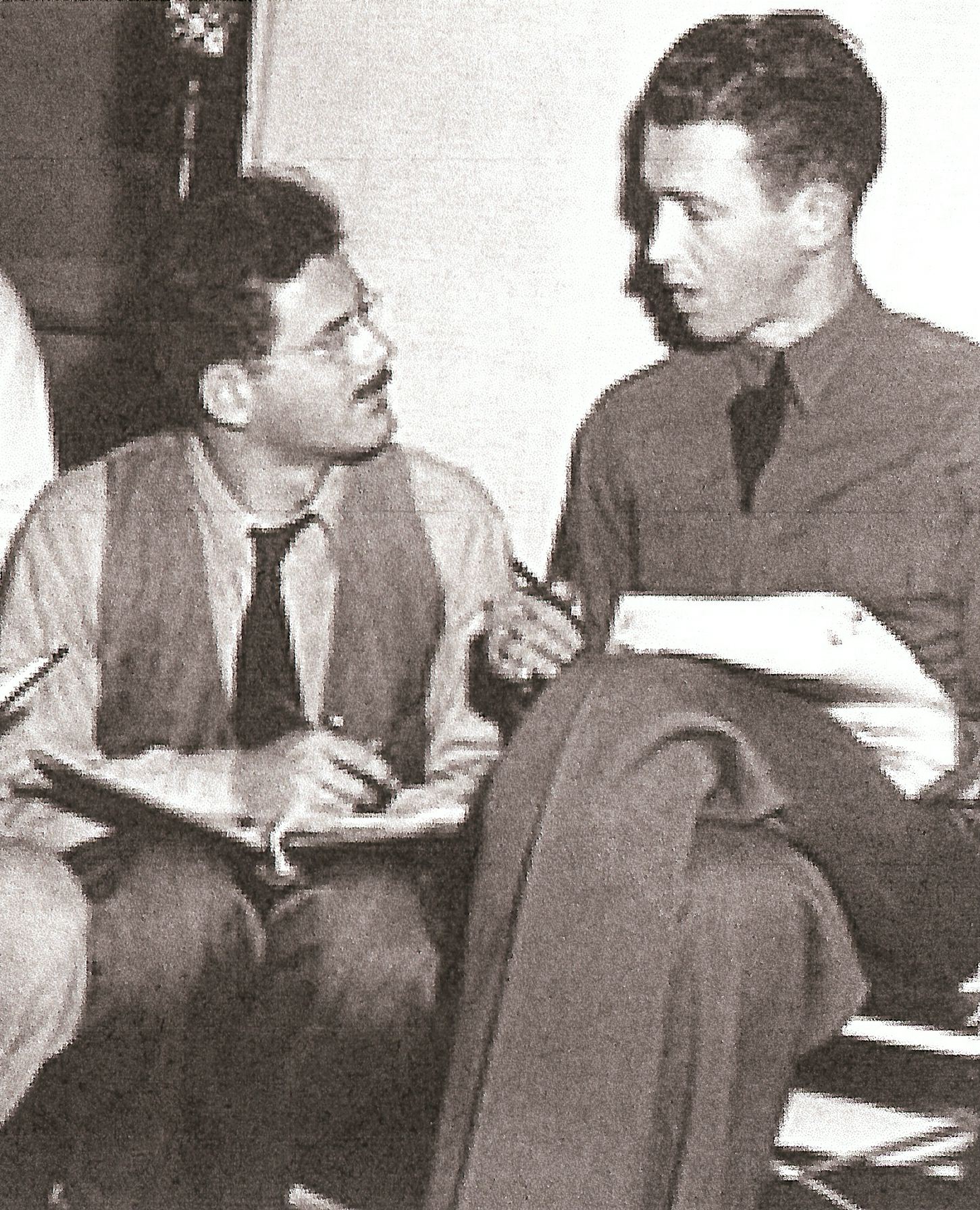 Norman Corwin goes over the script with Jimmy.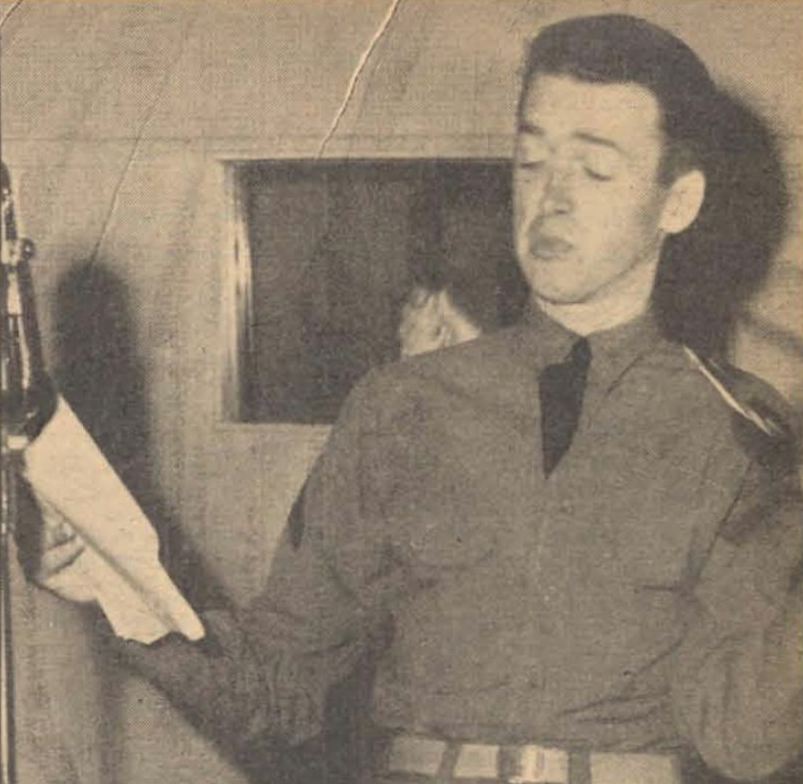 Jimmy delivering his lines from an isolation booth during the broadcast.
Finally, here is a page from the original script showing just a few of Stewart's lines and ending with his introduction of the President of the United States: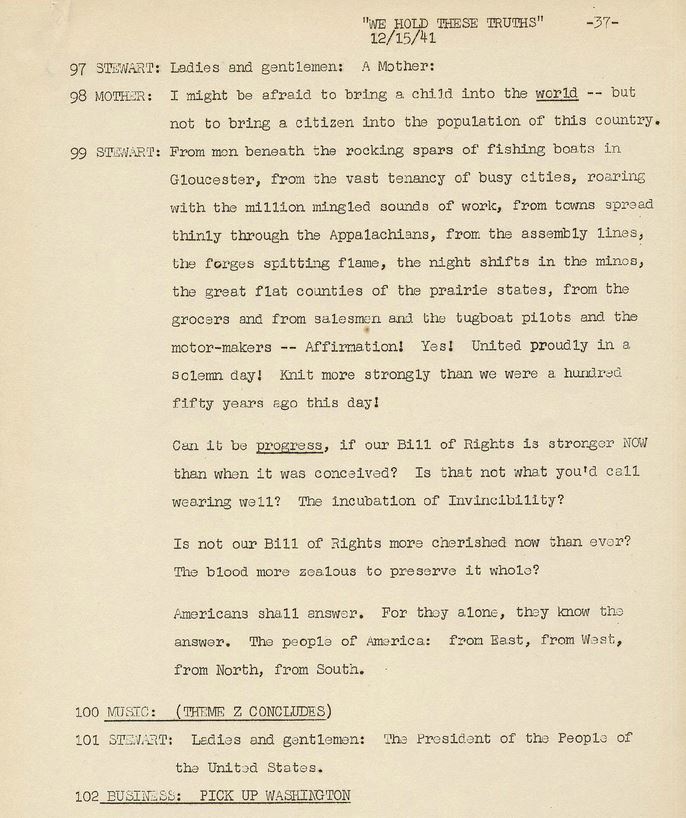 The broadcast was reviewed in the December 17, 1941, issue of variety. The review is presented here in three segments, making it easier to read. Comments about Mr. Stewart's performance are in the final paragraph of the second segment.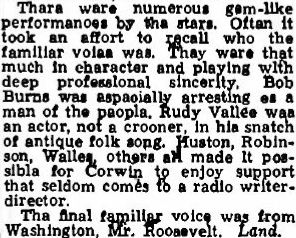 A 1950 CBS publication, The Sound-of-Your-Life, had this to say about the show: