The Anatomy of a Murder soundtrack album was released in 1959 at the same time as the film starring Stewart, Lee Remick, Ben Gazzara, Arthur O'Connell, Eve Arden, Kathryn Grant, George C. Scott and Orson Bean.
Columbia CL-1360 (mono)/CS-8166 (stereo)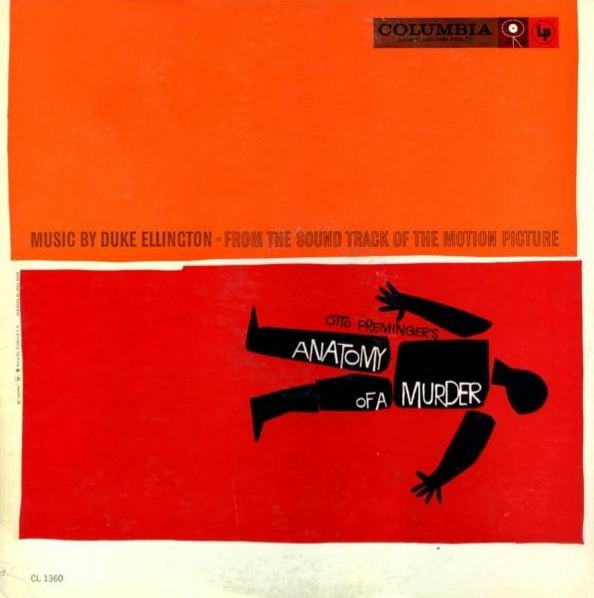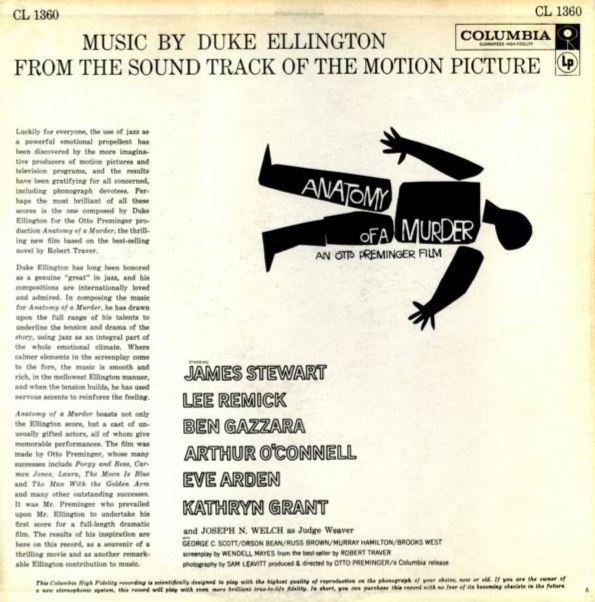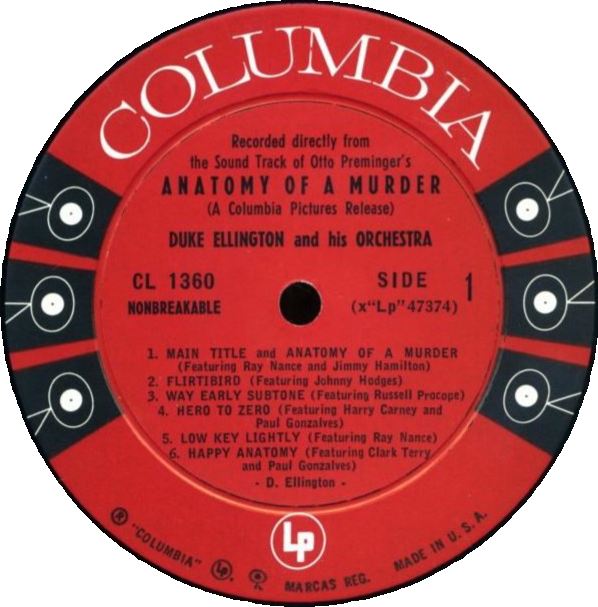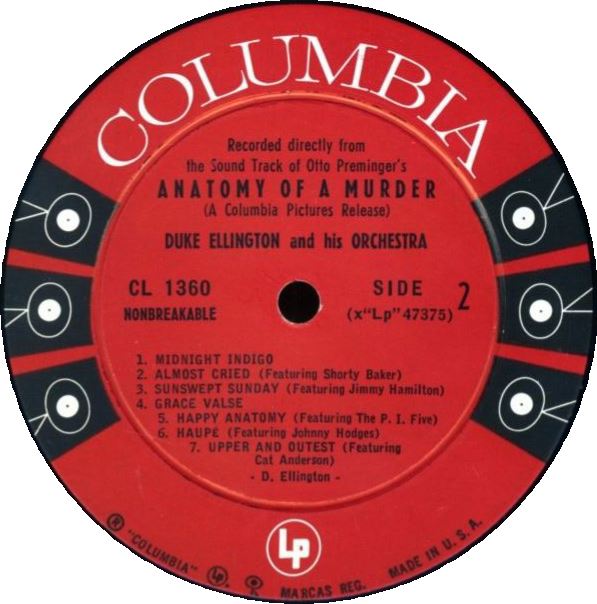 The original album was released on May 29, 1959. All music is composed and conducted by Duke Ellington. The album was produced by Irving Townsend. The tracks on the original album are:
Main Title and Anatomy of a Murder
Flirtibird
Way Early Sunshine
Hero to Zero
Low Key Lightly
Happy Anatomy
Midnight Indigo
Almost Cried
Sunswept Sunday
Grace Valse
Happy Anatomy
Haupe
Upper and Outest
Columbia Records took a full-page ad in Billboard magazine (June 29, 1959) to advertise the soundtrack album: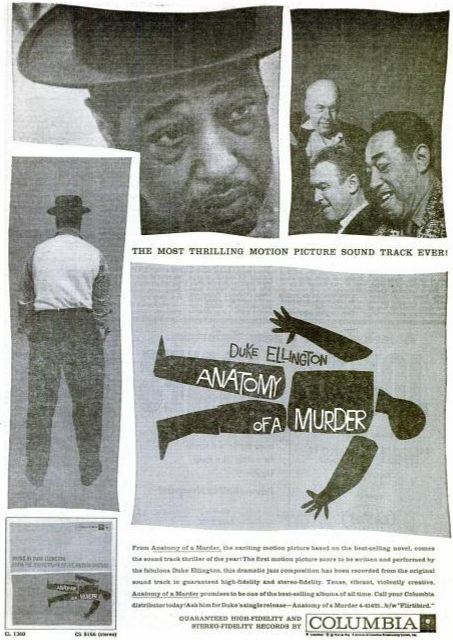 The album and/or Duke Ellington were nominated for four Grammy Awards. The nominations were shown in the October 5, 1959, issue of Billboard magazine.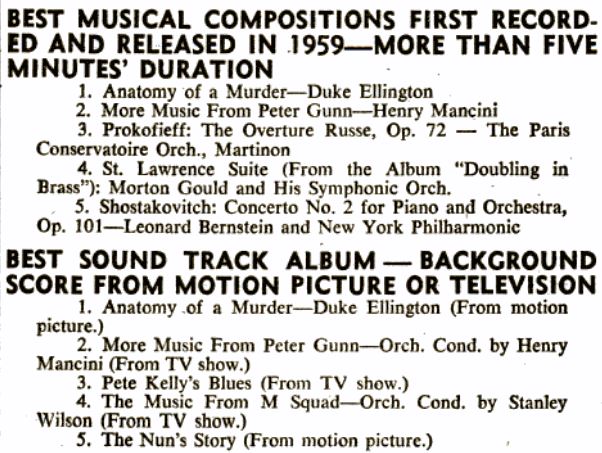 The soundtrack won in the first three categories, but lost "Best Album Cover" to Shostakovich Symphony No. 5.
Here is a photo of Duke Ellington and Jimmy Stewart sharing the same keyboard during the filming of Anatomy of a Murder.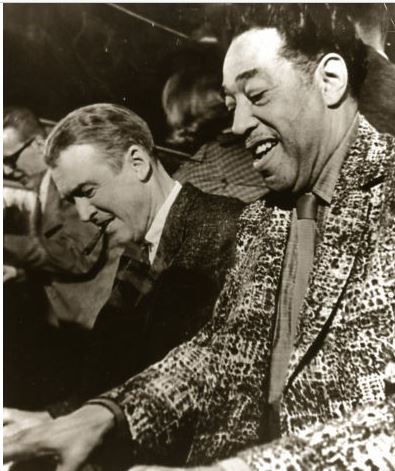 Some of the songs from the film were also issued on an EP (Columbia B 13601):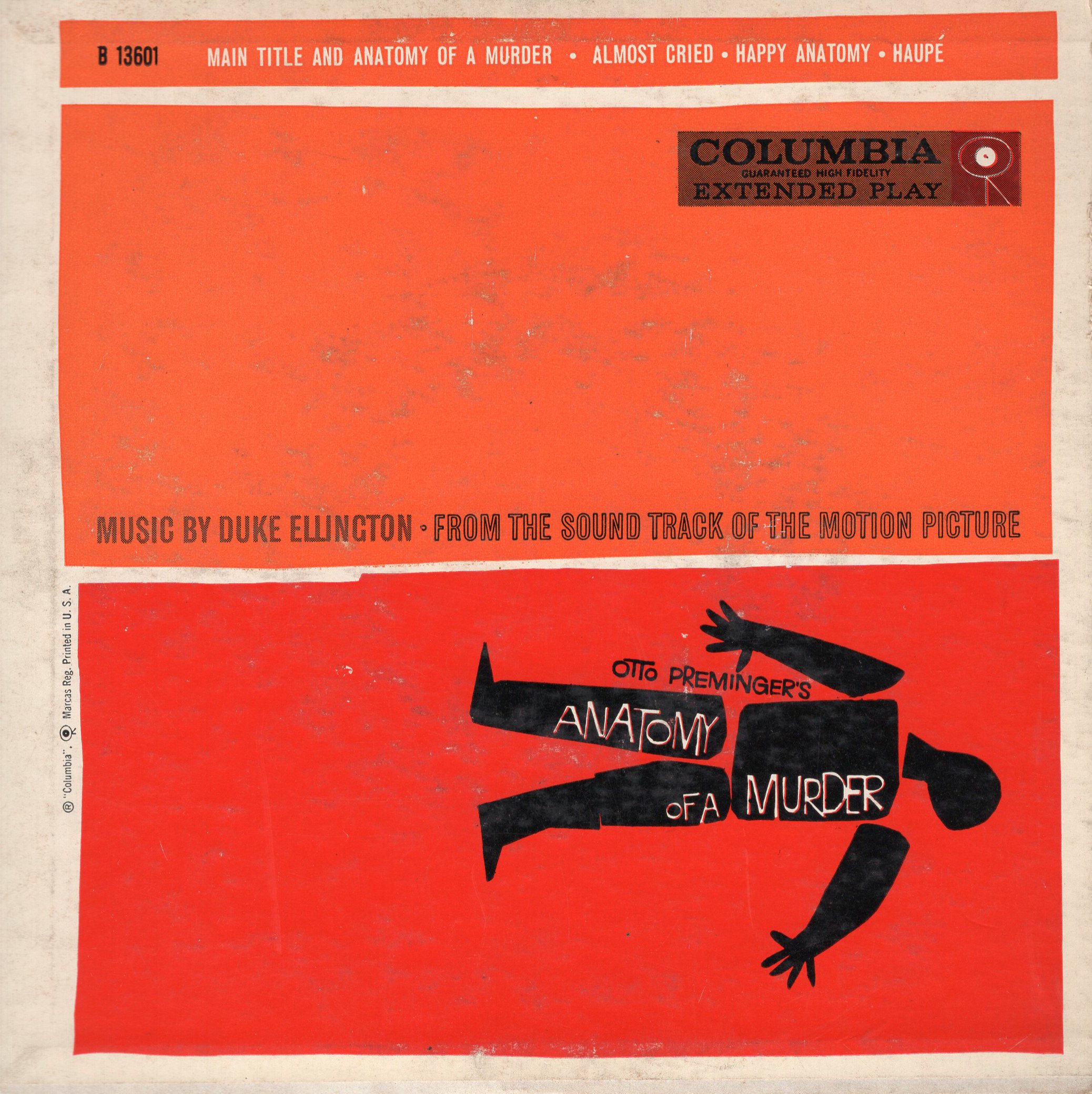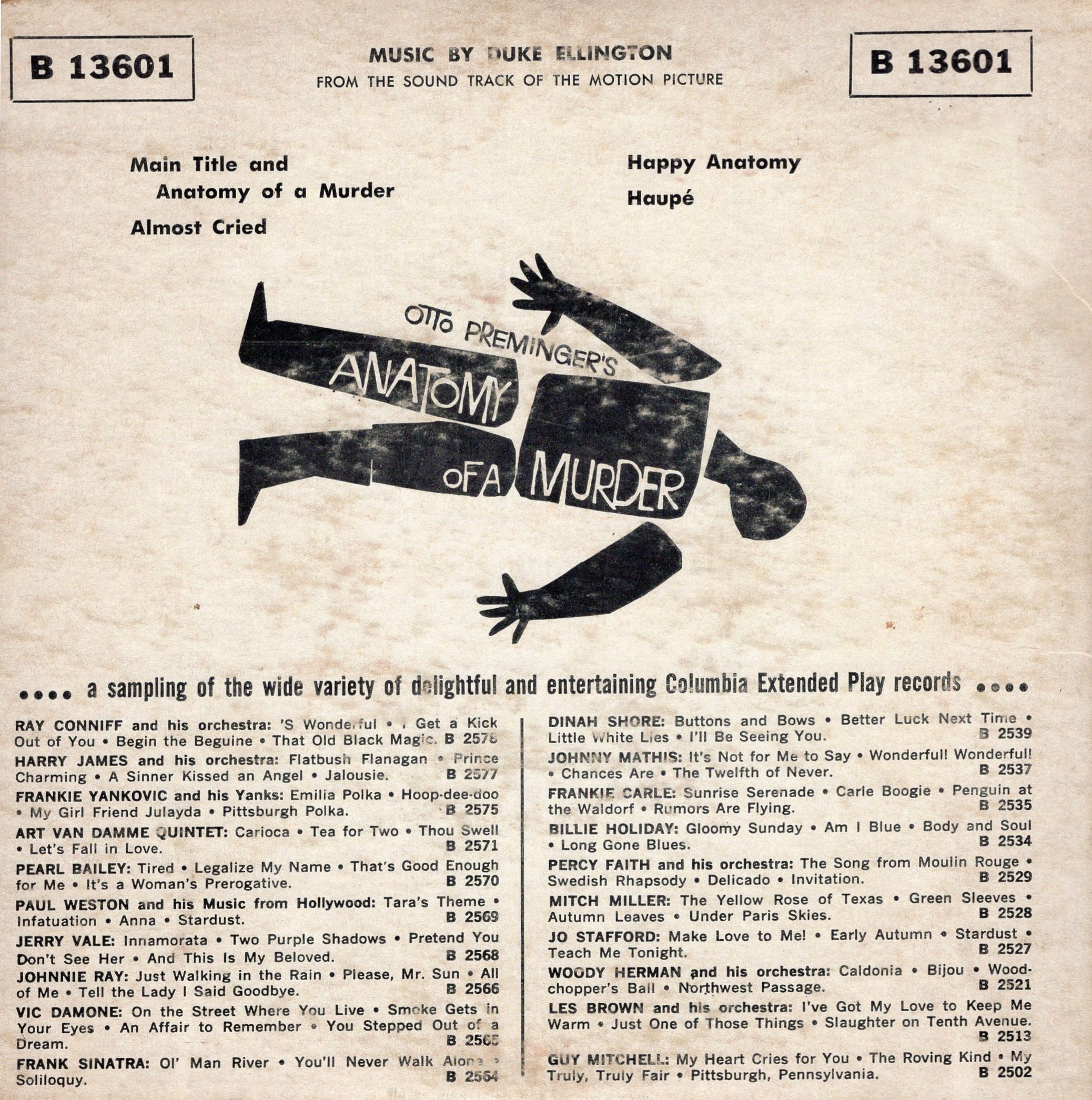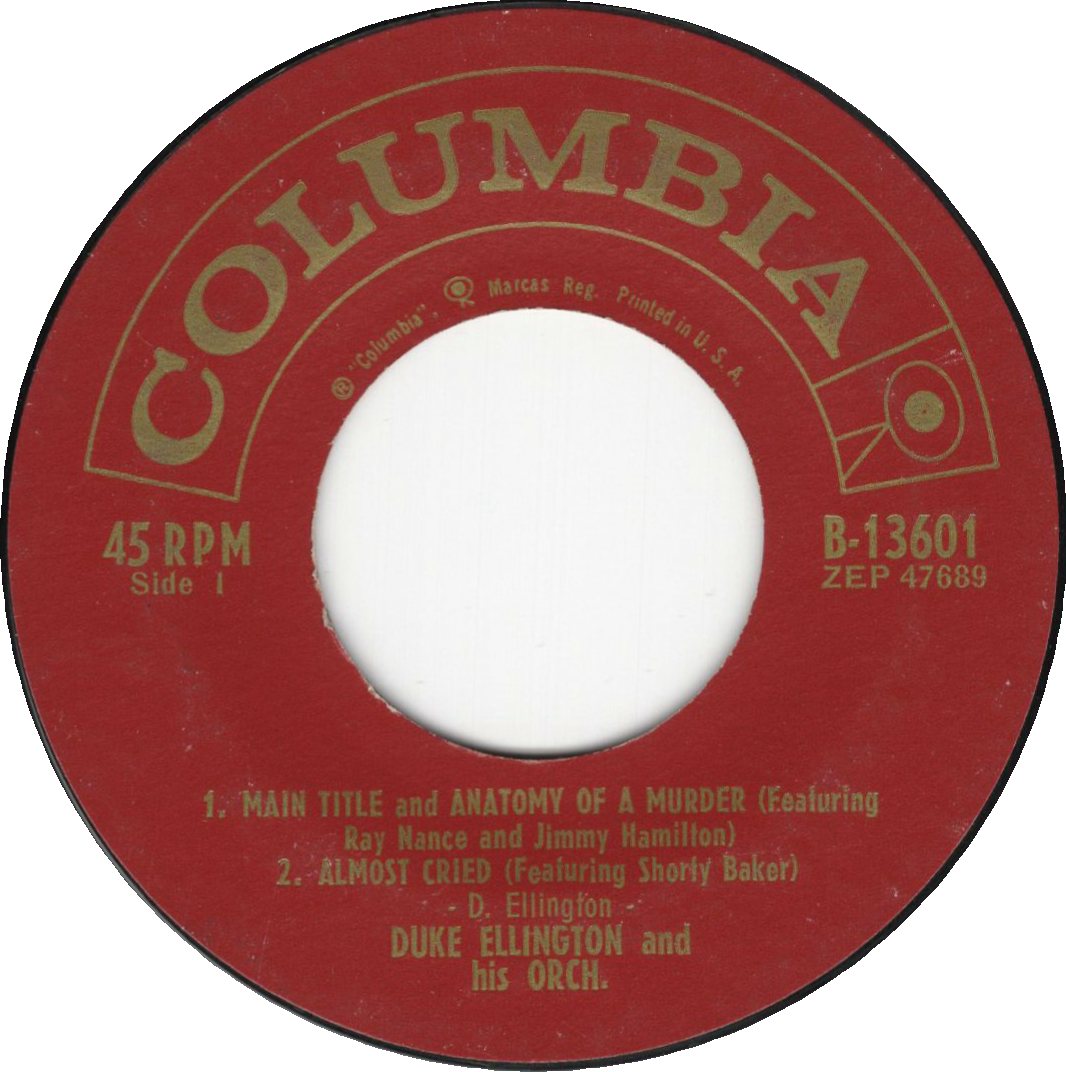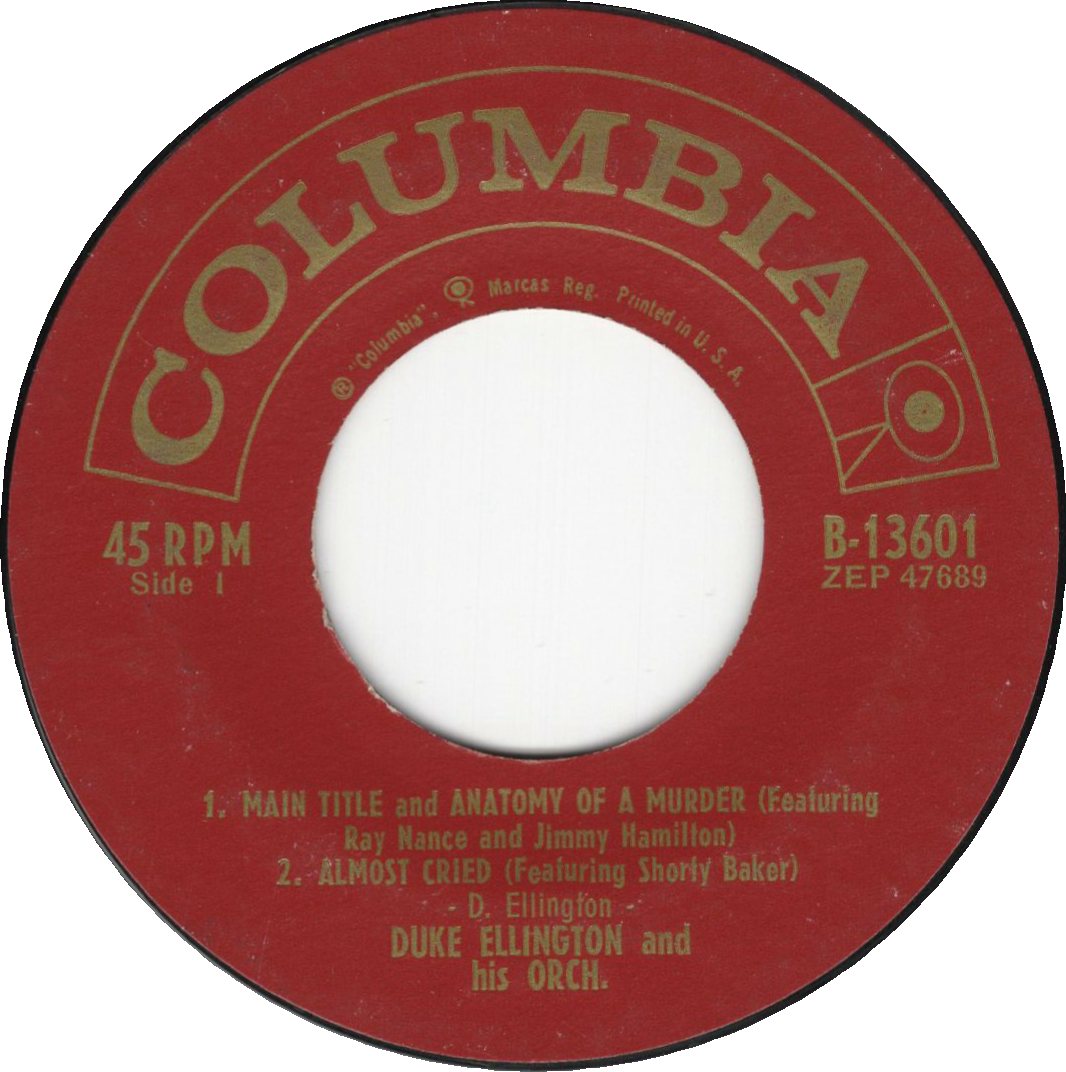 The soundtrack was also issued as a 4-track reel-to-reel tape (Bel Canto ST-98):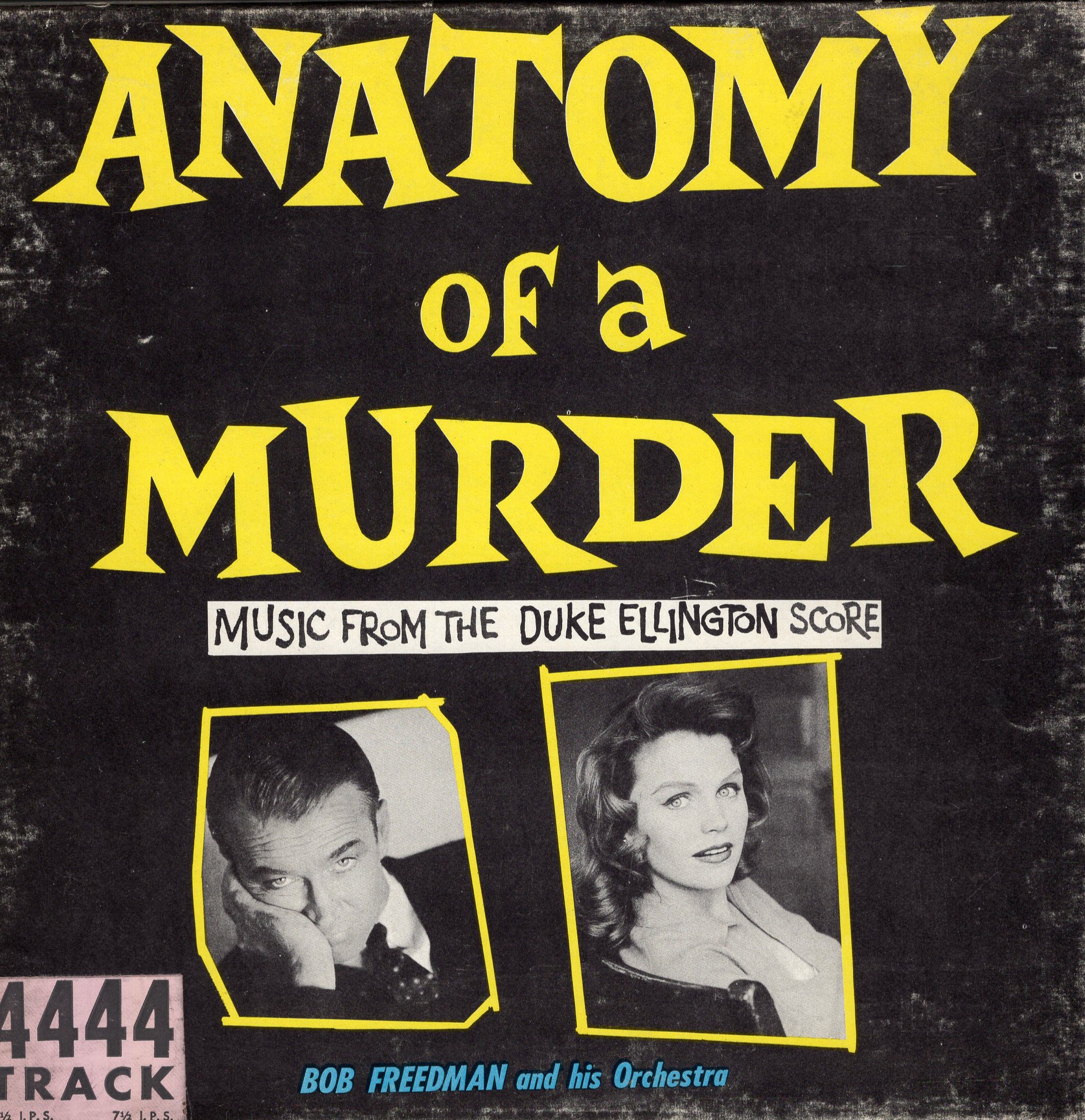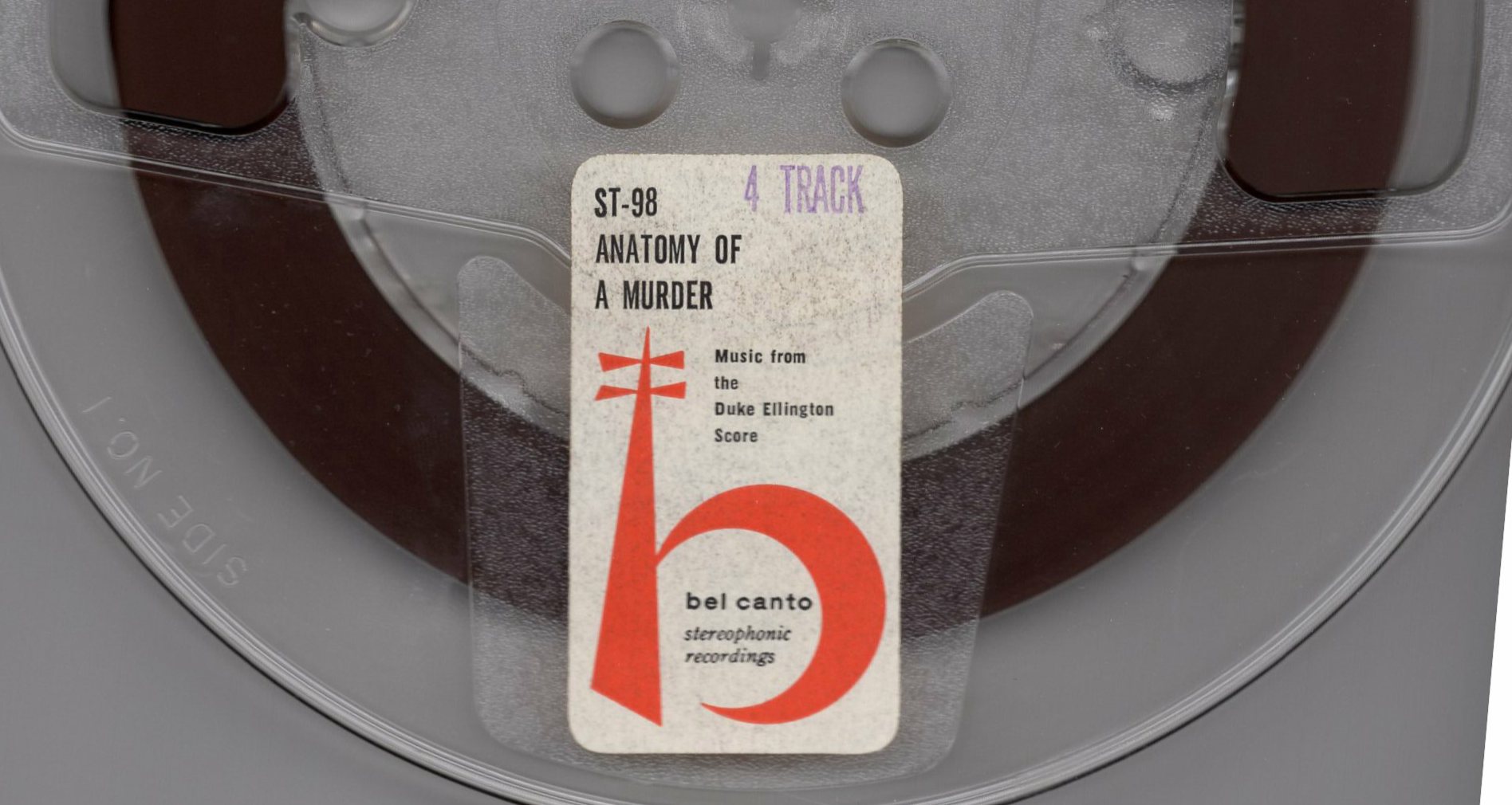 A second album of music from the film was released on the Coronet label (CX-99). The music was played by the Bob Friedman Orchestra. The cover carried a photo of the film, with Stewart and Lee Remick clearly visible.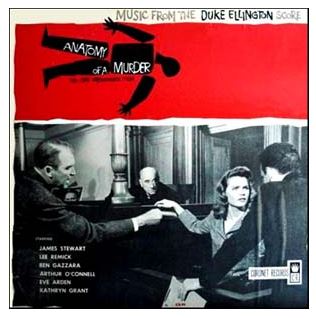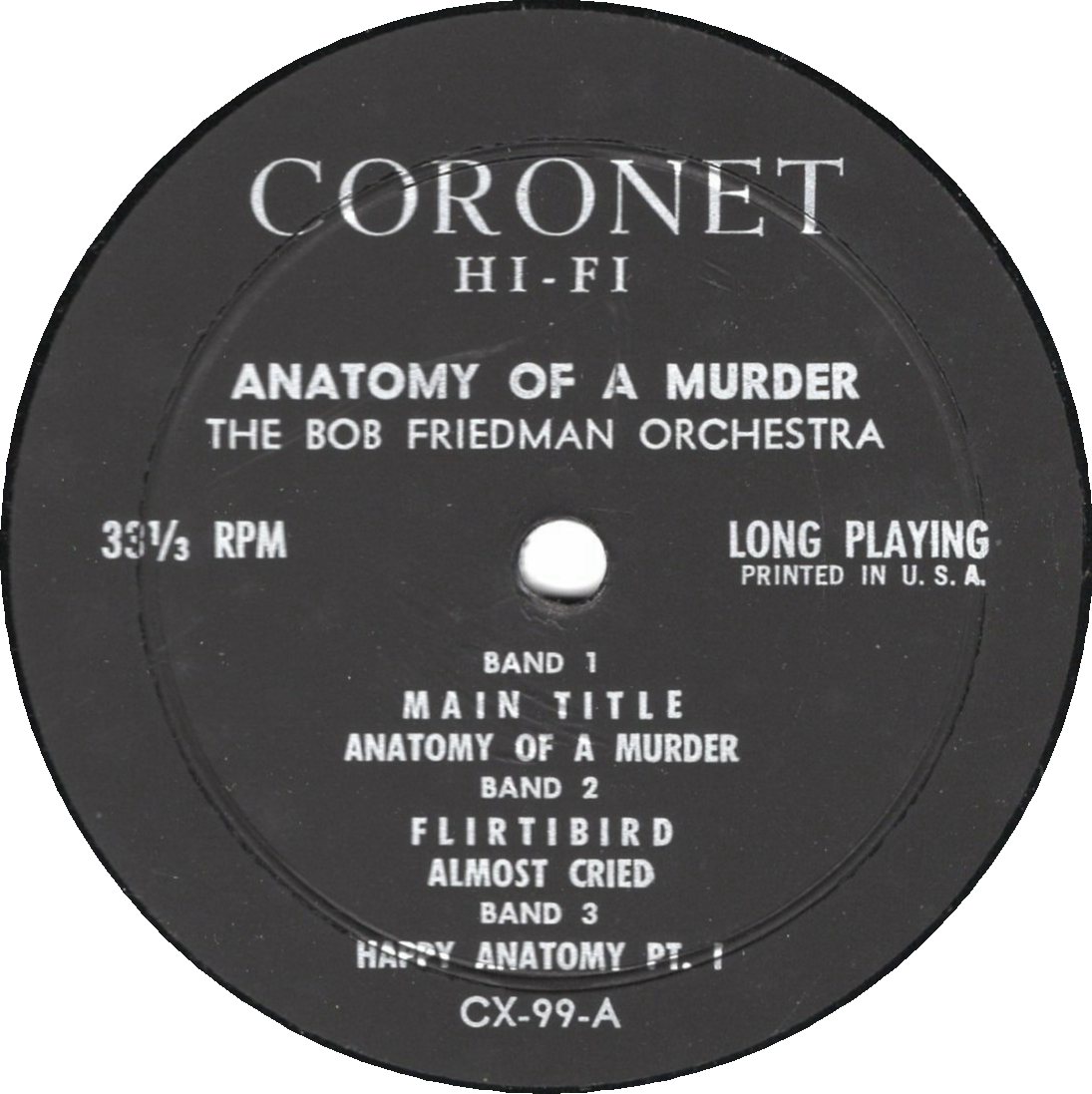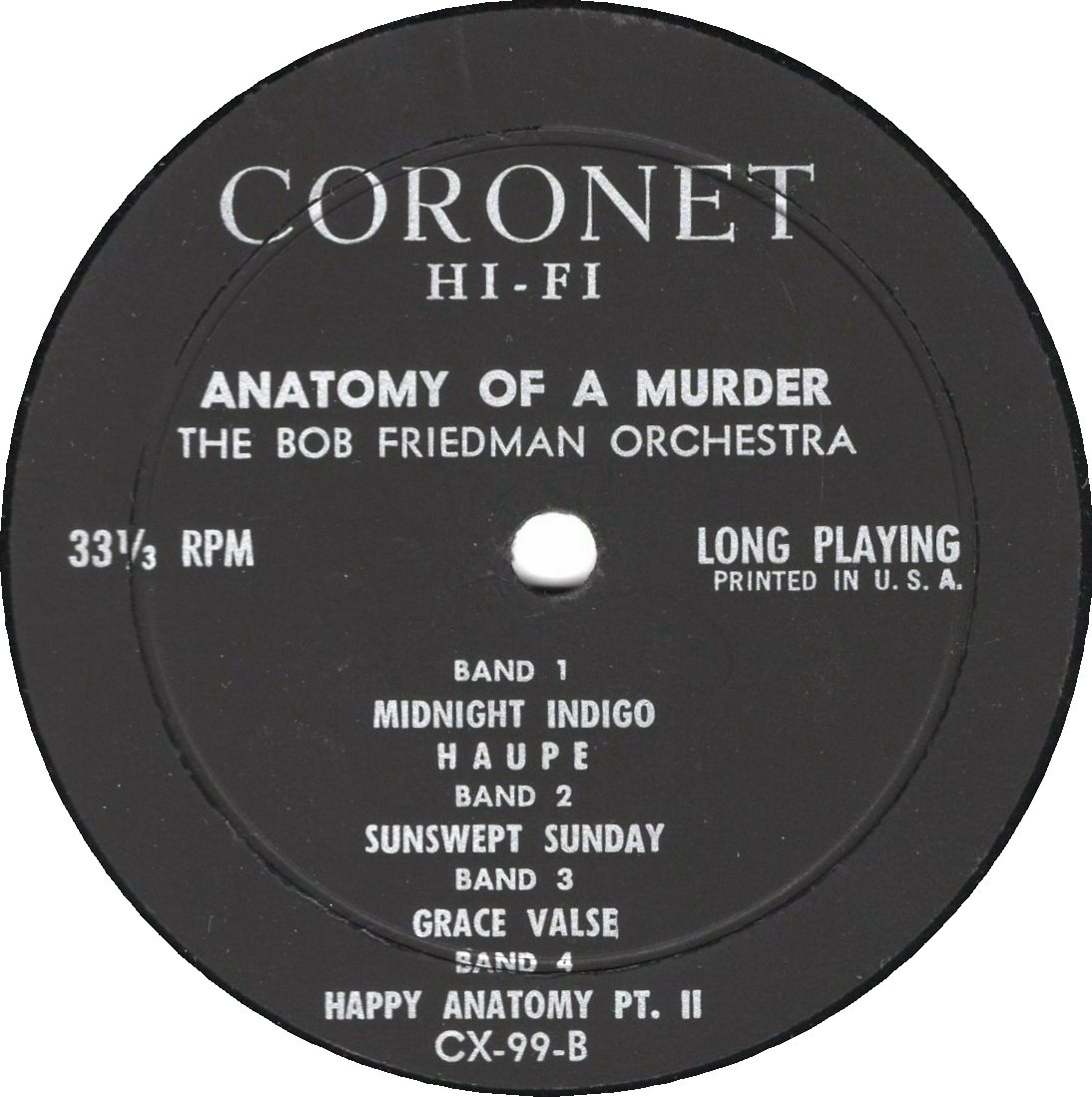 As you can see, the songs here are different from the Columbia album.
A 45 rpm single was also released about the same time as the soundtrack album (Columbia 4-41421). The single featured Ellington on piano, Jimmy Hamilton on tenor sax and Ray Nance on trumpet.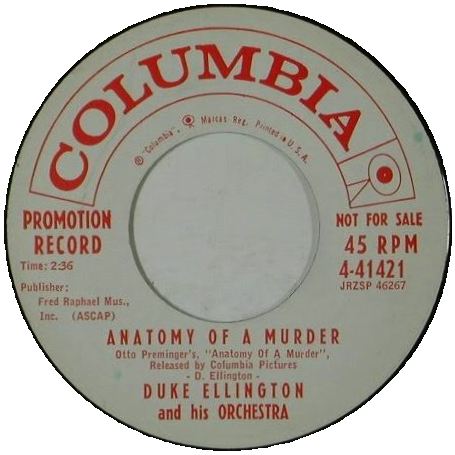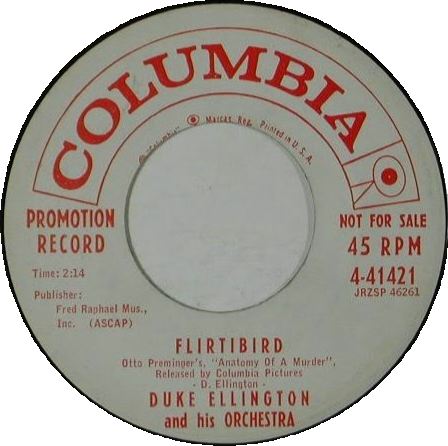 Billboard thought enough of the record to give it this review in the June 22, 1959, edition of the magazine. Despite this, it failed to chart.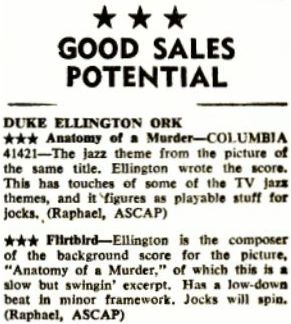 Ellington's single was also released as a part of Columbia's "little album" series – a 7-inch, small hole stereophonic single which played at 33 1/3 RPM (S7 30421).
The take used for this disc is different from the takes issued on the LP and the 45.
Columbia did its best to promote these special records with full page ads like the one below from the October 26, 1959, edition of Billboard. Despite this, the singles failed to sell well and were dropped quickly from production.