Peggy Lee was given the Main Title track and asked to write lyrics for it. The result was a song titled I'm Gonna Go Fishin'. Two versions of this were issued in 1960. One was an instrumental by Gerry Mulligan (Verve 10216), while the other was a vocal by Peggy Lee (Capitol 4449). While Mulligan's version had been recorded and released before Lee's, it carried the I'm Gonna Go Fishin' title and Lee's song writing credit, most likely because Lee had written the lyrics in 1959, months before either version was recorded.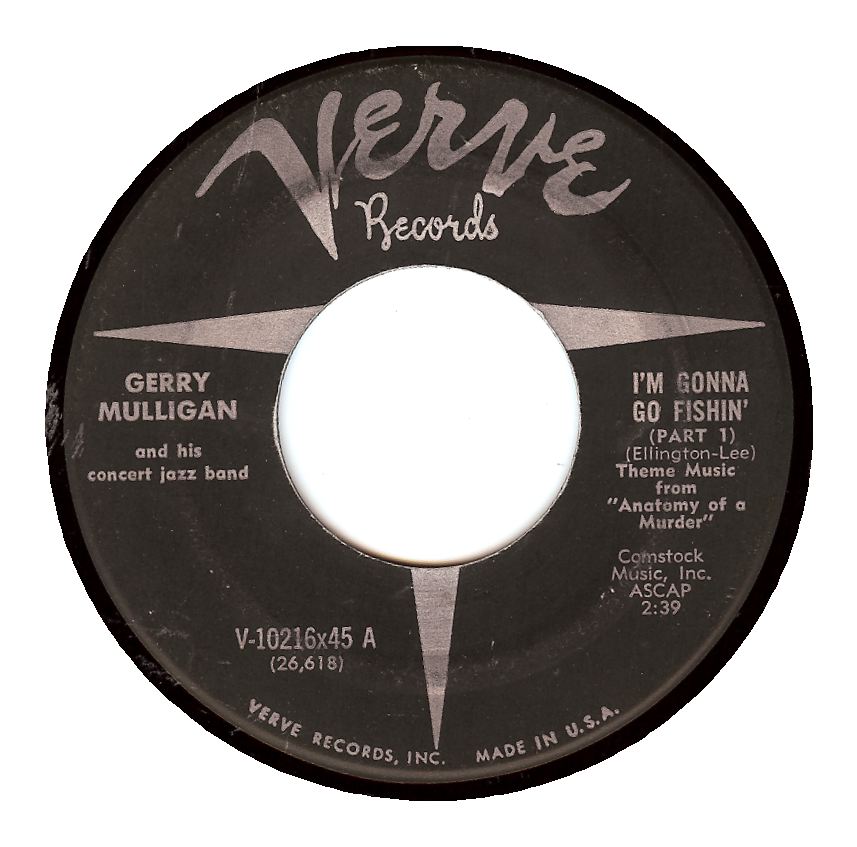 Below are two items which appeared in Billboard magazine on June 13, 1960. They each give a different title to the song, as did the record's label.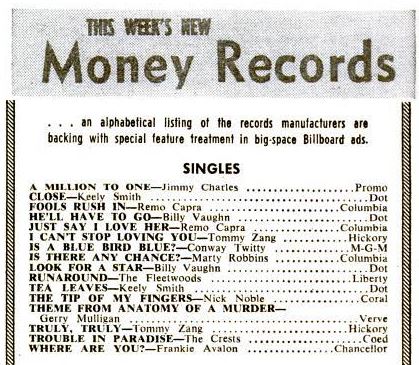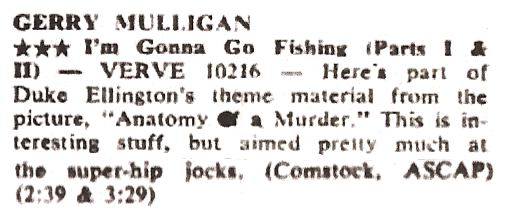 Mulligan's single featured himself on baritone sax, Don Ferrara, Danny Stiles and Phil Sunkel on trumpets, Wayne Andre on trombone, Alan Raph on baritone trombone, Bob Brookmeyer on the valve trombone, Dick Meldonian on alto sax, Gene Quill on alto sax and clarinet, Jim Reider on tenor sax, Gene Allen on baritone san and baritone clarinet, Bill Tackus on bass and Dave Bailey on drums.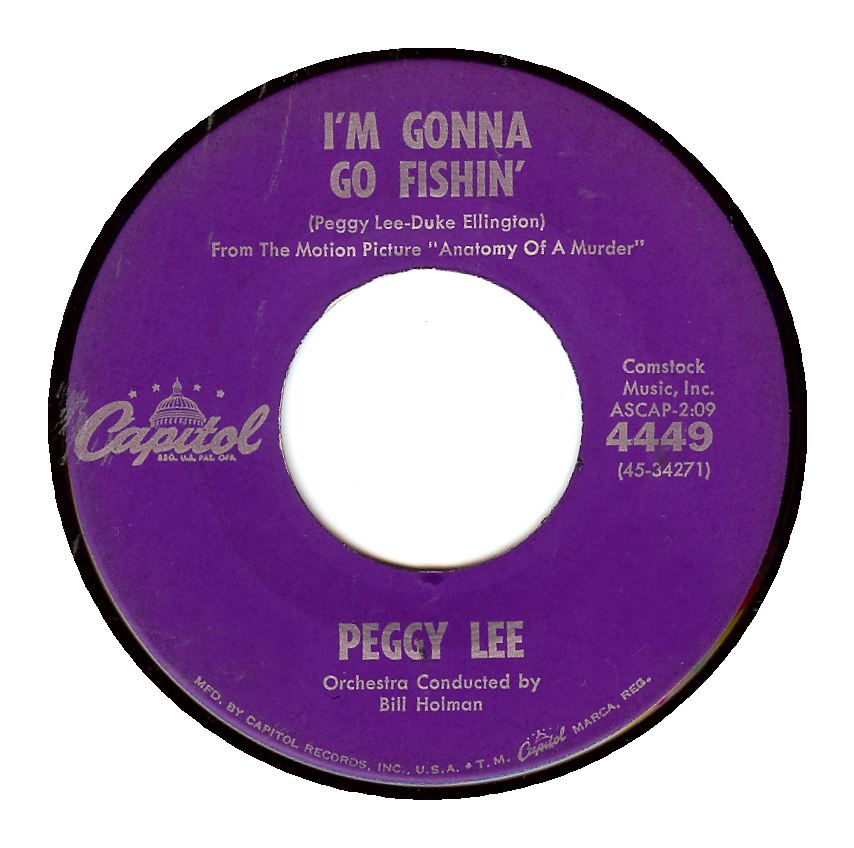 When Miss Lee's version was released, Billboard gave it this review (October 3, 1960):

In the same issue, Capitol Records ran this ad: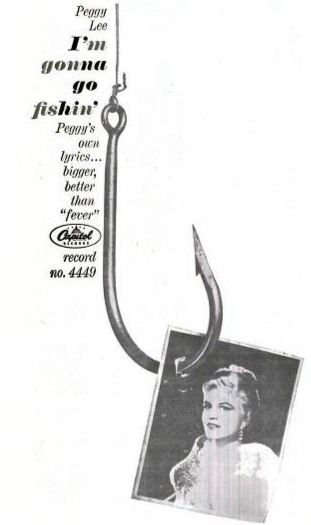 Peggy Lee's version was also used in a special United States Air Force Presents Music in the Air program: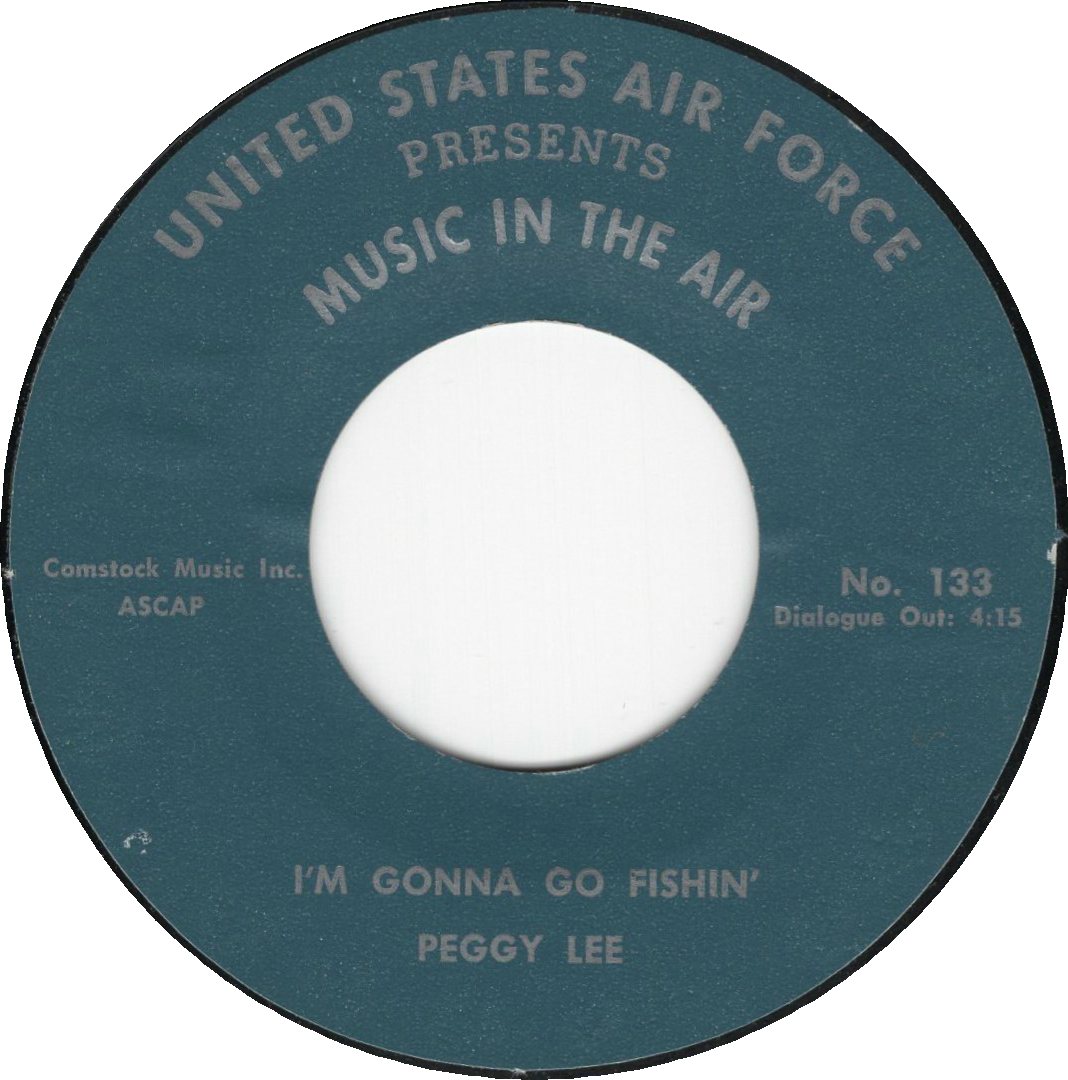 Both Mulligan and Lee's versions were nominated for Grammy Awards. In the "Female Vocal Performance – Single" category, Lee lost out to Ella Fitzgerald's Mack the Knife. Mulligan fared no better in the "Best Jazz Performance – Large Group" category, losing to Henry Mancini.
The original Soundtrack album has been re-issued several times. The first was as a Columbia Special Products (JCS 8166) album.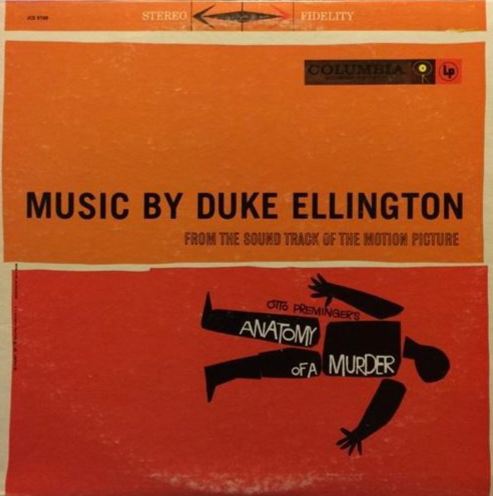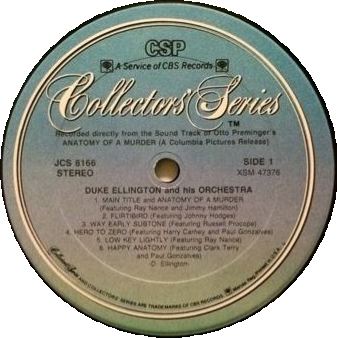 The first CD release came in 1987 by Rykodisc (RCD 10039).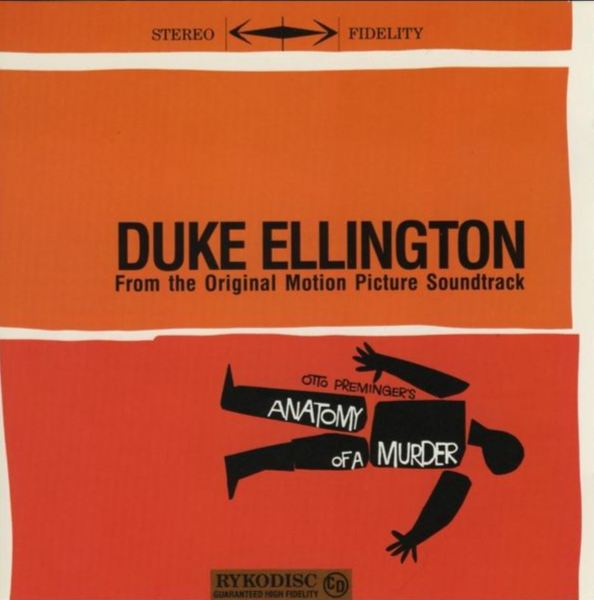 Again, this featured the same music as the original album.
It was issued on CD again in 1991 by Sony Music Special Products (WK 75025) with the same tracks as the original album.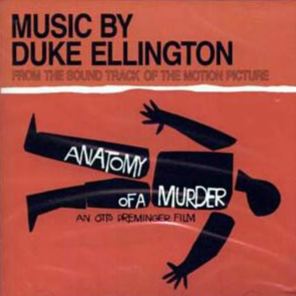 A limited, numbered album was released on 200 gram vinyl for audiophiles by Mobile Fidelity Sound Labs (MFSL 1-214) in 1995. Again, it had the same tracks as the original album.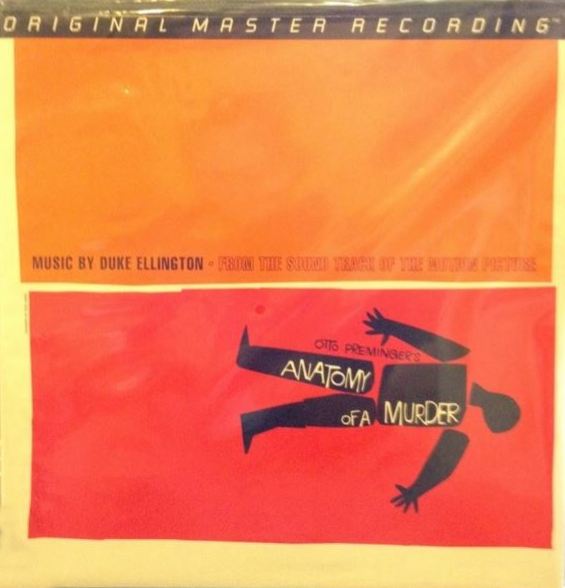 In 1999, Columbia/Legacy (CK 65569) issued a CD with the original album tracks, plus 13 bonus tracks.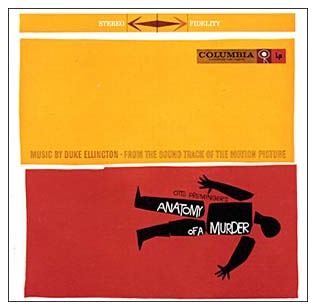 The bonus tracks included:
Anatomy of a Murder (stereo single)
Merrily Rolling Along (Hero to Zero)/Sunswept Sunday
Beer Garden (previously unreleased)
Happy Anatomy (previously unreleased)
Polly (previously unreleased)
Polly (previously unreleased, movie stings)
Happy Anatomy (previously unreleased, dixieland)
More Blues (previously unreleased, P.I. Five)
Almost Cried (Flirtibird) (previously unreleased)
Anatomy of Murder (previously unreleased)
Anatomy of a Murder (mono single in stereo)
The Grand Finale (previously unreleased; including an open interview of Ellington)
The CD release also lists the musicians playing on the soundtrack. These include:
Duke Ellington – piano, celeste
Russell Procope – alto sax, clarinet
Johnny Hodges – alto sax
Jimmy Hamilton – tenor sax, clarinet
Paul Gonsalves – tenor sax
Harry Carney – baritone sax
Shorty Baker – trumpet
Clark Terry – trumpet
Ray Nance – trumpet, violin
Gerald Wilson – trumpet
William "Cat" Anderson – trumpet
John Sanders – trombone
Quentin Jackson – trombone
Britt Woodman – trombone
Billy Strayhorn – piano
Jimmy Woode – bass
Jimmy Johnson – drums
This re-issue was produced by Phil Schaap and digitally remastered by Debra Parkinson. The liner notes are by Irving Townsend, Wynton Marsalis and Phil Schaap.