Perry Como was normally the host of the Supper Club, but for 13 weeks in the summer of 1947, that position alternated between Tex Beneke and Frankie Carle. The final summer host on September 5th was Tex Beneke.  It was the last show for the summer and Como was set to return the following week.
The Democrat and Chronicle, Rochester, NY, had these facts in its preview.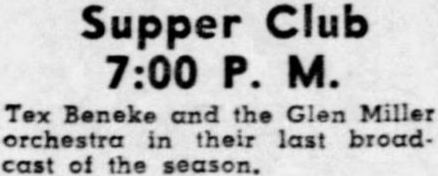 The 15-minute program was heard weeknights on NBC. Eddie Hubbard was the announcer.
Jimmy Stewart was not a guest on the show, but rather had a one sentence line in the Chesterfield commercials. He appeared in two different spots, both time uttering the line, "I've smoked Chesterfields for years and find they completely satisfy."
It was very common to transcribe part or all of a radio program at that time. Stewart's voice was most likely recorded on a disc and then played in the program at the appropriate time.
Unfortunately, the audio for this show does not exist, but the script does. We've included it below for you to read. It is only five pages in length, so it won't take you long.