Jimmy Stewart was the guest on the August 18, 1938, episode of the Kraft Music Hall. As was usually the case during the summer months, Bob Burns was acting as the show's host while Bing Crosby was on vacation.
This show is not available. The best information source is from a short preview from The Winnipeg Tribune, Winnipeg, Manitoba, Canada, on the day of the broadcast.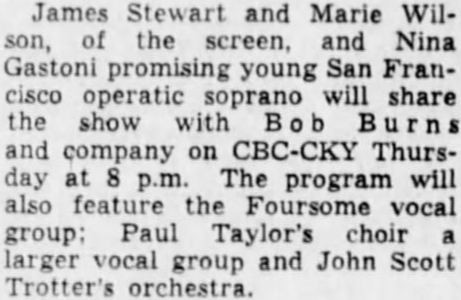 From this, we can see that the other guests were actress Marie Wilson, operatic soprano Nina Gastoni and a vocal group, the Foursome. The Paul Taylor Choir and the John Scott Trotter Orchestra were regulars year round on the program.
The New York Times' listing verifies this information, but gives the name of the vocal group as the Foursome Quartet.
(Update: December 7, 2017)
In 1938, Stewart was under contract to M-G-M. So, in order for him to appear on a radio broadcast, he had to have the permission from the studio. The following letter from M-G-M was to allow him to appear on this Kraft Music Hall program.