The Screen Guild Players presented the first of what would be three presentations of It's a Wonderful Life on December 29, 1947. Below is a sampling of some of the newspaper ads and previews which appeared at the time.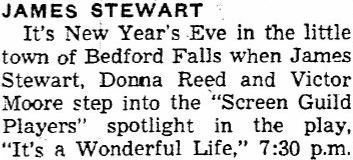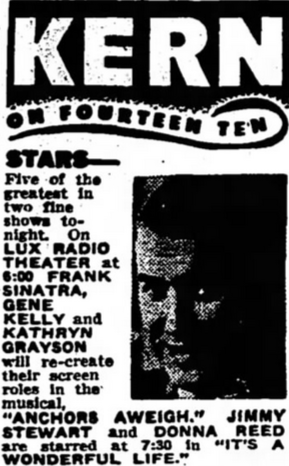 The program is not available, but a script is. Here is a scan of the first page of the script showing the members of the cast and crew.
Notice that the roles of several actors – Jerry Farber, Howard Jeffrey and Johnny McGovern – appear to have been dropped from the final broadcast.
It is also interesting to see that back in 1947, no one seemed to be concerned with cigarette smoking. Camel Cigarettes sponsored this, and other, radio programs. As a regular part of that sponsorship, they gave free cigarettes to veterans in servicemen's hospitals around the country. From the script, here is Stewart's announcement of the giveaway for this week's show.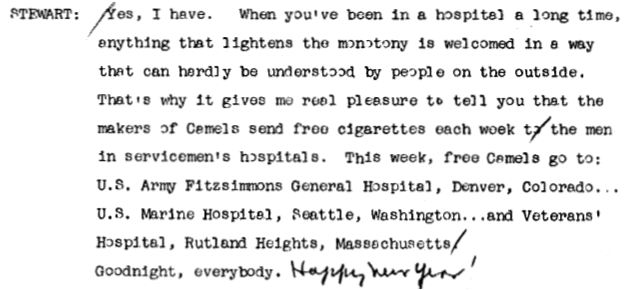 Because the show was being broadcast after Christmas, all of its action takes place on New Year's Eve rather than Christmas Eve. This same Harry Kronman radio adaptation would be used again for the December 13, 1951, production for Stars in the Air. For that production, everything was switched back to Christmas Eve.
To read the entire script from the University of California's Truth Tobacco Industry Documents library, click the link below.
The full page ad below appeared in the January 7, 1948, edition of Variety. It mentions all of the October, November and December shows presented on The Screen Guild Players program, the final one being It's a Wonderful Life.