This show was detailed in Jimmy Stewart on the Air, but news scans and audio will be presented here to complete the listing.
The program was well advertised in the newspapers on the date of the broadcast. Here are two display ads. The first is from The Fresno Bee, Fresno, Ca, and the second from the Syracuse Herald-Journal, Syracuse, NY.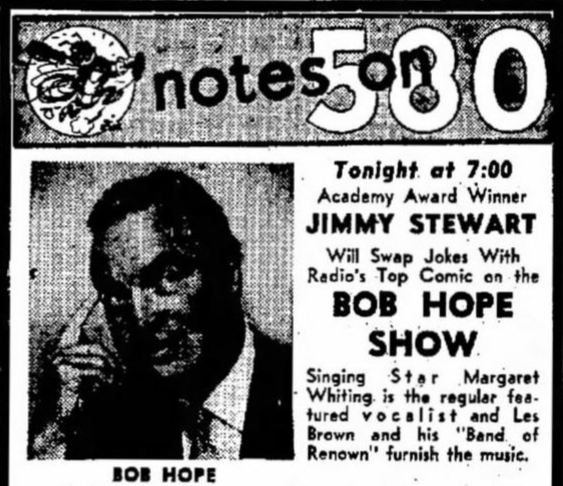 The premise for Stewart's appearance is quite simple. Bob is trying to borrow money to make a film, but he is told by the bank that he would have to have another big name star in the film before it could lend him any money. As luck would have it, Stewart is also in the bank and Bob sees his chance to get his co-star. He talks Jimmy into acting in a scene from the planning film, The Road to Cactus Gulch, for the banker. Stewart plays Smokey Jim, Hope is Tex and Margaret Whiting is Maggie Lou.
Here, in two parts, is the complete program.
Part 1:
Part 2:
The Stewart sketch, slightly edited, was used again in the broadcast of January 27, 1955.