Originally called the Prudential Family Hour, the program began as a musical show. However, by 1948, its listener base was eroding and Prudential decided to change the format. This was announced in the August 23, 1948, edition of Broadcasting magazine.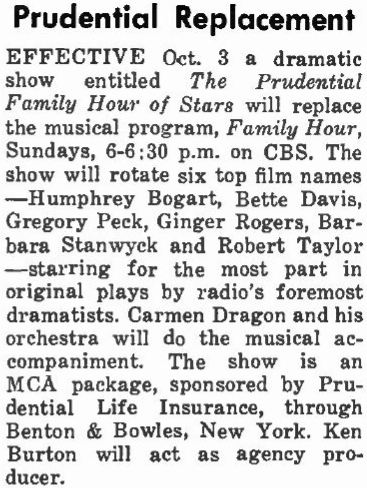 Interesting, although the show's title carried the word "hour," the new program would only be a half-an-hour in length.
The original six stars – Humphrey Bogart, Bette Davis, Gregory Peck, Ginger Rogers, Barbara Stanwyck and Robert Taylor – were to star in the majority of the productions, with other stars filling in at times. The six stars changed as the series progressed and the January 21, 1950, edition of Billboard magazine made the announcement that Jimmy Stewart was to join the group.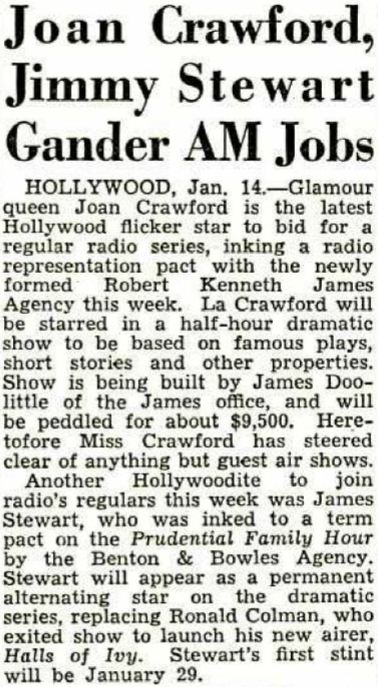 The article states that Stewart's first broadcast would come on January 29th. What wasn't known at the time was that this would also be his only appearance on the program. The other five stars during Stewart's time with the group were Dana Andrews, Kirk Douglas, Irene Dunne, Jane Wyman and Loretta Young. The story chosen for Stewart was an adaptation, by Charles Tazewell, of Ernest Hemmingway's The Short, Happy Life of Francis Macomber. The play was produced by Ken Burton and directed by Jack Johnstone. Jimmy played the part of safari guide, Robert Wilson. Ted Osborne was Francis Macomber and Betty Lou Gerson played Macomber's wife, Margo.
The Lincoln Star, Lincoln, NE, ran this preview of the show on the day of the broadcast.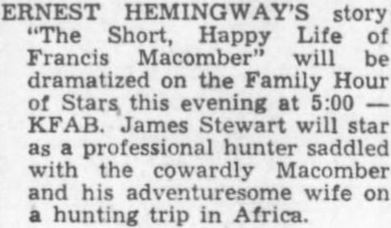 Audio of this show is not in general circulation; in fact, most sources list it as being unavailable. However, we have managed to find a copy of the show. Unfortunately, the sound quality is not very good at all, especially the sections containing music. With some concentrated listening, the dialogue is understandable and you will be able to follow the story with little difficulty. The play was presented in three acts and is presented here in that same format.
Act 1:
Act 2:
Act 3: